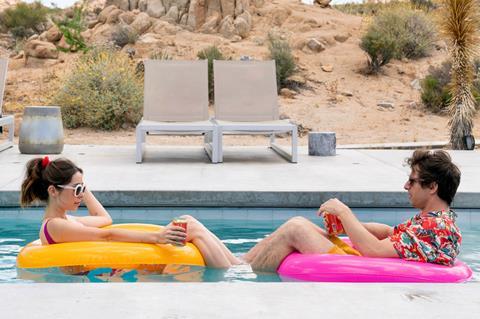 Hulu and Neon confirmed on Monday evening (27) that the worldwide deal for Sundance drama Palm Springs is a record-breaker, eclipsing the $17.5m Fox Searchlight paid for The Birth Of A Nation in 2016 by 69 cents.
The partners negotiated the acquisition with UTA Independent Film Group after the wedding celebration romp premiered in U.S Dramatic Competition on Sunday. It screens again late on Monday night, Wednesday, Thursday and Saturday.
Neon plans a theatrical release on the feature, which stars Andy Samberg as the jaded date of a bridesmaid and Cristin Milioti as the maid of honour who embark on a riotous time together.
JK Simmons, Peter Gallagher, Camila Mendes and Meredith Hagner are among the ensemble support.
Max Barbakow directed from a screenplay by Andy Siara. Samberg, Becky Sloviter, Akiva Schaffer, and Jorma Taccone of Party Over Here produced with Dylan Sellers and Chris Parker of Limelight Entertainment, who also financed. Alex Dong and Gabriela Revilla Lugo served as executive producers.
Neon and Hulu teamed up to buy Little Monsters at Sundance last year.