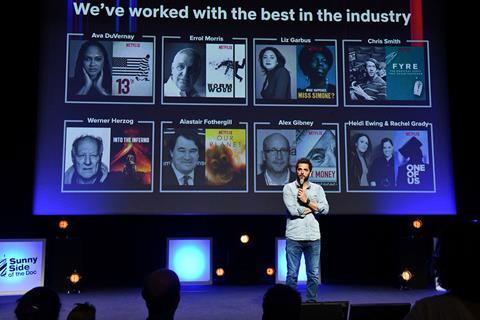 The impact of Netflix on the global documentary market was the big talking point of this year's Sunny Side of the Doc market in La Rochelle, France.
Sunny Side, which celebrated its 30th anniversary this year, scored a coup for its 2019 edition by attracting Netflix director of original documentaries Diego Bunuel as a keynote speaker, who set out his ambition to commission more feature docs and series from European talent. The auditorium was packed to hear him speak, with some delegates struggling to get in.
The fact is, however, that Netflix's output is still relatively limited as far as Europe is concerned. Bunuel envisages commissioning between two and four projects from key European territories per year, which is a drop in the ocean compared to the documentary output of leading public service broadcasters and funding bodies.
This was a point stressed by Bunuel himself: "We are very selective on our projects, and compared to Arte or ZDF we do very few…We have a long shadow, but in fact we are quite small in terms of viewership compared to traditional media."
Nevertheless, the rapid growth of the Netflix platform, which has 155 million subscribers worldwide, plus the impact it has had with documentaries such as Our Planet, Fyre, Wild Wild Country and Homecoming, has prompted many European broadcasters, producers and funders to rethink their approach to documentary.
Many, for example, said the future of the feature documentary now lies not in the cinema, but on streaming platforms such as Netflix.
Christian Beetz, executive director at Beetz Brothers Film Production (Open Heart, The Wagner Files), claimed that the theatrical releasing of documentaries is becoming more difficult: "If you have no support for theatrical release, you have no chance… I see their [documentaries'] future on platforms."
Christiane Hinz, head of documentary at German broadcaster ARD/WDR, added "[the number of] documentaries in cinemas is going down, there are real problems."
Others said broadcasters themselves had to change. Soren Schumann, head of department at RBB/Arte, described an internal fight going on at Franco-German network Arte between those who want to continue with business as usual, focusing on TV broadcasting, and those who want to put the emphasis on online and VoD platforms. "We have to change our rules and our system completely – and we have got to be fast," he stated.
The kind of content audiences are prepared to watch has also changed, added Schumann. "People have a thirst for non-fiction programmes… They are ready to consume very complex content nowadays. That is a very positive evolution as a commissioning editor – and we have got to offer those products."
Creating such complex, standout content is, of course, expensive. And this means, according to Schumann, spending more on fewer, big budget programmes. "I am very confident we can get into competition with other big international VoD players because – at least in France and Germany - we have so much money in the system. We have to focus it, and spend it on much fewer programmes, which is stressful for the market, for producers and broadcasters, because it is the prospect of changing the game radically."
He also emphasised broadcasters needed to pay much more attention to marketing documentary content in a bid to stand out in a crowded market, "Everything out there is a struggle for attention."
Netflix, however, played down the fact that it is in competition with traditional broadcasters. Bunuel said: "Comparing public broadcasters and Netflix is difficult, because public broadcasters have a very important role as a unifying cultural entity in a country – they have a role of education, science, politics – something that Netflix does not have. We have a role of entertainment. There are some projects that we would be competitive on, but many projects that we would not go on because, say, it is the anniversary for this event or that event." He added Netflix does not get involved in live events production or sports coverage.
His comments were backed up by many delegates at Sunny Side, who were busy throughout the week piecing together financing for their documentaries from multiple partners around the world.
Many view Netflix as an addition to the market, but not a dominant player. Indeed, one producer told Screen he would likely prefer not to work with Netflix on his project as the streamer may demand all rights in perpetuity.
Rather than working for hire, many producers want to have a stake in their project – and this fact looks set to play into the hands of traditional broadcasters for many years to come.