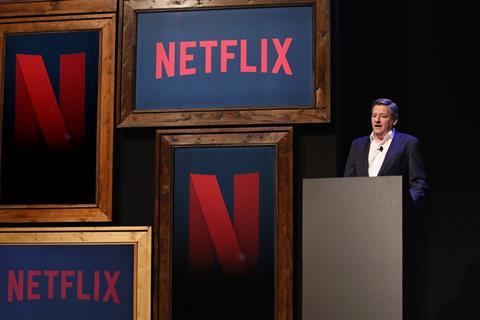 Netflix chief Ted Sarandos has shrugged off the threat from SVoD launches from rivals such as Disney as he pledges to "push forward" with content investment.
Speaking at the annual UBS Global Media and Communications Conference, Netflix's chief content officer said there is "plenty of room" in the SVoD market for "other players to be successful".
Responding directly to a question on the aspirations on media companies such as Disney to launch standalone services, he said: "They're going to get out there and they're going to do things and some of them are going to be successful. I don't think they'll be to the detriment of Netflix."
He said Netflix still has room for growth and has not yet hit "diminishing returns on investment".
"Until we see that, we're enthused to push forward, meaning that we keep investing more in programming," he said.
His comments came in the wake of Netflix cancelling three of its Disney-owned Marvel shows: Daredevil, Iron Fist and Luke Cage and announcing a partnership with Roald Dahl's estate for 16 adaptations of the late author's works.
Last month, Disney announced it would launch its streaming service, Disney+, in late 2019 with a slate of Pixar, Marvel, Star Wars and National Geographic films.
WarnerMedia is launching its direct-to-consumer product around the same time, offering three-tiered access to films and television from HBO, Turner and Warner Bros.
Sarandos said that Netflix's move into original programming almost seven years ago with House of Cards was an "early bet" that studios and media companies would likely become competitors.
"We needed to wean ourselves from dependency on third-party suppliers of programming and develop our own content and creative relationships," he said.
He noted that a diversification of deals, including run-of-series deals and co-productions, will shield Netflix from external pressures.
"We're doing all these different [deals] to make sure that we have a steady pipeline of great programming on Netflix regardless of what happens in the rest of the world," Sarandos said.
Unscripted shows
Netflix has also moved into unscripted content with 20 non-scripted shows launching on the platform this year versus, having launched none in 2017.
"Viewing of unscripted has grown on the quality and breadth of new shows," he said.
In 2019, the streaming service will "ramp up" its local-language shows around the world to 70 films, after seeing some its local series become pan-regional and global hits such as Germany's Dark, India's Sacred Games and Spain's La Casa de Papel.
"That has changed the dynamic for international television," said Sarandos. "We're not trying to make more Hollywood content for the world. We're trying to make content from anywhere in the world to [bring to] the rest of the world."
Sarandos also ruled out moving into live sports rights in the short-term, saying "on-demand adds almost no value to it".
He said: "At some point, sports might be the best place for a $10bn investment and I think that's what it takes to do it meaningfully, but I don't think that's the case for today."
This story first appeared on Screen's sister site Broadcast.