Cannes grapples with the implications of Netflix's arrival on the Croisette.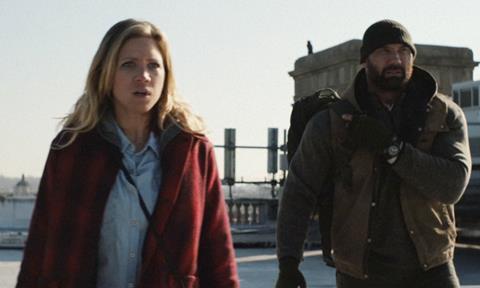 US streaming giant Netflix continued its gradual integration into the fabric of Cannes on Thursday with the inclusion by Directors' Fortnight of its recent acquisition Bushwick (pictured, top) in the line-up of its 49th edition.
Its selection followed announcement last week that two other Netflix titles - Okja and The Meyerowitz Stories (New and Selected) – would compete for the Palme d'Or in the Official Selection.
But this Cannes hat-trick does not mean the streaming giant's place is assured in the eco-system of this bastion of cinema and the theatrical experience.
When quizzed about Netflix's impact on Directors' Fortnight and the wider Cannes ecosystem, artistic director Edouard Waintrop admitted it was a complex issue.
"It's a complicated question and one for which I'm not particularly well-prepared. It's a new issue on different fronts, by which I mean there are those films which have been made for Netflix and then those which are acquired by Netflix."
The auteur-focused sidebar could take a view on whether to select films produced for Netflix, and not necessarily destined for the big screen, but there was little it could do when a title in its line-up was acquired by the streaming giant and then not released theatrically, he explained.
"Last year we had at least two cases where we selected films and then they were bought by Netflix," said Waintrop, referring to Houda Benyamina's Divines (below) and Sacha Wolff's Mercenary.
Divines Distribution
Netflix acquired Divines in the early days of Cannes 2016 in a deal begun at the Doha Film Institute's talent development event Qumra in March where an extract screened as a work-in-progress.
"We had no idea it would be acquired by Netflix. It wasn't really a question that crossed our minds. We couldn't have done something even if we'd wanted to.
"The film did play in theatres in France, Switzerland and Belgium. At what point do you start asking whether a film is cinema or not cinema. If a film by Scorsese is shown only on Netflix can we say it's not cinema?"
After its theatrical release in the France as well as French-speaking parts of Belgium and Switzerland, the film rolled out globally on the Netflix platform last November, but questions remained over whether it was the best distribution route.
In the meantime, the energetic tale of two feisty girlfriends growing up in an impoverished city-fringe neighbourbood won Cannes's prestigious Caméra d'Or for best first film across both the Official Selection and parallel selections.
But it was not taken into consideration as France's 2017 Oscar contender - even though it energetic girl power tale was in a similar vein to the country's 2016 submission Mustang. It was a snub many saw prompted by its Netflix connections.
The case of Bushwick
Directors' Fortnight found itself in a similar situation this year with Cary Murnion and Jonathan Milott's action picture Bushwick, imagining a contemporary US civil war in which a Texan military force invades New York State.
"This year we had an American film, Bushwick, that we selected three months ago and has since been acquired by Netflix but not for the US," he added.
Netflix confirmed on Thursday that it had acquired French and South Korean rights and would release the film in these territories in 2017. In the US, it secured a seven-figure theatrical deal during Sundance with RLJ Entertainment.
Pan-Cannes position
Waintrop hinted that the Cannes Film Festival and the parallel sections might eventually take some sort of across-the-board position on whether films should be theatrically released in order to be selected but said that for now there had been no in-depth discussion.
"I don't think Thierry Frémaux and I differ in our views on this… it's a question on which we'll have to take a position but we will also have to be pragmatic. We'll have to see if Netflix continues to exist in the same way and also open-up a dialogue with them as well as other players in this sphere like Amazon," he said.
Divisive issue
In the backdrop, the inclusion of Netflix titles Okja (pictured) and The Meyerowitz Stories (New And Selected) in Official Selection has divided the French film industry.
The National Federation of French Cinemas (FNCF) was quick to raise a red flag, questioning their legitimacy as cinematic works, if they were not released theatrically in cinemas.
"The FNCF hopes that a rapid clarification will be made in order to confirm that these works will be able to be released in cinemas in accordance with the current regulatory framework, which is the basis of the cultural exception," the body said in a statement.
Aside from the theatrical distribution issue, the FNCF also questioned the fact Netflix had recently closed its office in France, and now oversaw its French service out of its European headquarters in the Netherlands.
The move put the company out of reach of France's fiscal and production investment incentives, which underpin the virtuous financing circle keeping the French film and TV industry afloat, it said.
Their demand that Okja and The Meyerowitz Stories (New And Selected) get a theatrical release in France could be a tall order for Netflix.
If the titles hit cinema screens in France, Netflix will not legally be able to offer the title on its French SVOD service for another 36-months under the country's media chronology laws which are among the strictest in the world.
The FNCF's request has in turn re-ignited a long-running debate over how to overhaul the country's media windows, which also stipulates a four-month window for a feature VOD release.
The FNCF in turn prompted an angry response from the growing number of independent producers and distributors who would like to see softer rules, especially for features that have a tough time making it to the big screen. They say the current framework is outdated in the digital era.
It is a debate that looks set to run right up until Cannes and beyond.
Read more:
Netflix reveals $1.75bn European production investment