CEO Reed Hastings outlines streaming giant's commitment to European content; teaser for first German original series revealed.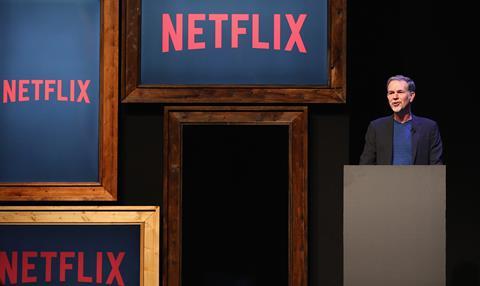 Netflix has spent more than a billion dollars on European film and TV productions, according to Reed Hastings, the co-founder and CEO of the streaming giant.
During a press event in Berlin, Hastings said that since 2012 Netflix has spent $1.75bn on European licensed, original and co-production film and TV projects.
This includes more than 90 original productions in various stages of development, including films, documentaries, and TV shows.
"We are one of the most active supporters and financers of European content," said Hastings.
He said that European content is being watched by 93 million subscribers around the world, adding that more than two thirds of viewing of European content comes from outside of Europe.
"We're creating these global audiences for great local productions," he said.
During the event, Netflix released the debut teaser for its first German original series Dark. Directed by Baran Bo Odar (Who Am I?), the ten-part series from producers Wiedemann & Berg (The Lives of Others) charts the disappearance of two young children in a small German town. Release is set for winter 2017.
Reed also announced that Netflix will be increasing the number of languages they support in Europe to 15 by adding Romanian and Greek later this year.
Technical improvements
Hastings went on to speak about the company's efforts to improve the Netflix service.
"We're improving the personalisation so that the films and series on the homepage are more tailored to your tastes, so it's easier to find several great things to watch," he said.
"We're improving the video quality, supporting Dolby digital, 4k, HDR, amazing new video quality if you buy a new smart TV from Sony or Samsung or LG or Philips. Even on a mobile phone we're pioneering with LG and others HDR (high dynamic range), where the colours are vivid, this will be available on mobile phones and televisions."
Hastings said the company was also committed to integrating with more set top boxes throughout Europe, announcing that they are bringing Netflix to Unitymedia in Germany.
He also said that Netflix is interested in further collaboration with the team behind The White Helmets, which won the Oscar for best documentary short. The award marked Netflix's first Oscar win.
"[Director] Orlando von Einsiedel and [producer] Joanna Natasegara are very happy for us to continue to work with them to produce more and more content," he said.
Screen will reveal further news and first-look content from Berlin throughout the day.