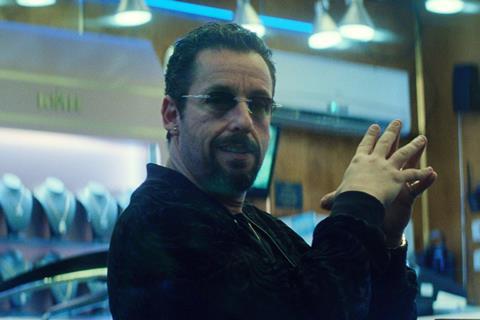 Netflix has struck another four-film renewal deal with Adam Sandler as the service unleashed a volley of larger-than-life statistics, claiming among other things that subscribers have spent two billion hours watching Sandler's films since 2015.
The pact with Sandler and his Happy Madison Productions follows an original four-film deal in 2014 that was itself renewed for a further four in 2017.
The arrangement comes at a fortuitous time for the actor and comic as he rides high on critical acclaim for his award-winning role as a New York jeweller in A24's Uncut Gems. Netflix will release the film globally (excluding the US) on January 31, and in the US in May
Sandler, whose career theatrical hits include Big Daddy The Waterboy and You Don't Mess With The Zohan, initially partnered with Netflix at a time when global box office on certain titles like Jack And Jill, The Cobbler, and That's My Boy was flagging.
The collaboration appears to have been lucrative for both parties. Reports have put the first deal at $250m and Netflix said last year that Murder Mystery was the actor and comedian's biggest film on the platform to date, with 83m households selecting the film in its first four weeks online, although for how long remains unclear.
The service also said Murder Mystery was the most popular title on its platform in 2019 in the US, as well as Canada, New Zealand, Australia, Mexico, Colombia, Argentina, Singapore, and UAE.
The six-year collaboration between the parties has yielded five films: The Ridiculous 6 in 2015, followed by The Do-Over, Sandy Wexler, The Week Of, and Murder Mystery last year. (The platform has also carried Sandler's stand-up special 100% Fresh.)
Coming up this year is the Netflix family film Hubie Halloween in which Sandler stars alongside Ray Liotta, Maya Rudolph and Steve Buscemi, among others, as well as an animated project in the works that he will write, produce, and star in as a voice actor.