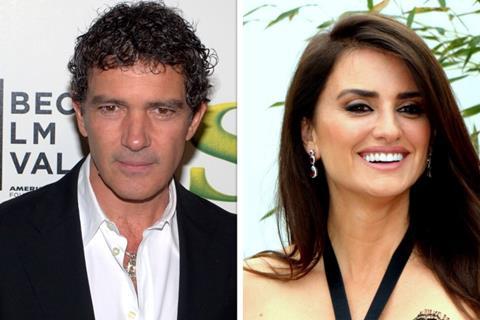 Spanish superstars Penélope Cruz and Antonio Banderas are to take the relatively unusual step of starring together in a film and have signed on to Competencia Oficial (Official Competition) from Argentinian duo Mariano Cohn and Gastón Duprat.
While both actors have collaborated with Pedro Almodóvar for many years and starred (without sharing the screen) in Almodóvar's fresh Goya winner Pain & Glory, the pair have rarely been seen together at the same time on screen, The last time this happened was, briefly, in Almodóvar's 2013 film I'm So Excited.
Both actors have expressed their desire to work together on several occasions and now their wishes are about to come true on a new production from The Mediapro Studio.
Shooting on Competencia Oficial is scheduled to start in Spain at the end of February. The story centres on the production of a film starring two actors – played by Oscar Martínez and Banderas – with clashing personalities and very different careers in film business.
Cruz will portray an eccentric director who helms the project backed by a millionaire seeking notoriety. Cohn and Duprat co-wrote the screenplay with Andrés Duprat.
The filmmakers worked together on 2016 black comedy The Distinguished Citizen, which earned Martinez the Coppa Volpi for best actor in Venice 2016.
The Mediapro Studio has worked with the directing duo before in two of their solo directing works: with Gastón Duprat on My Masterpiece, and with Cohn in 4x4, the locked-in-a-car thriller that was a sensation when it was introduced at Ventana Sur in 2018.
Banderas recently won the lead actor Goya for Pain And Glory, and is nominated for the lead actor Oscar. Cruz is in post on the female ensemble action thriller 355.