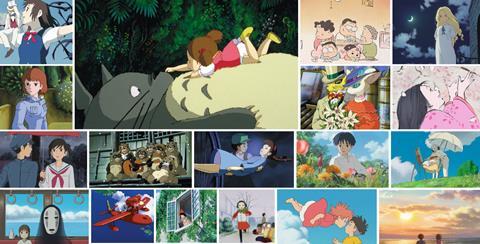 Netflix has struck a deal with Wild Bunch International to stream 21 films from iconic Japanese animation house, Studio Ghibli, globally outside the US, Canada and Japan.
Available from February 1, the films will be subtitled in 28 languages and dubbed in up to 20 languages. They include classics such as Oscar-winner Spirited Away, Princess Mononoke, Arrietty, Kiki's Delivery Service, My Neighbor Totoro and The Tale of The Princess Kaguya, among others.
Studio Ghibli producer Toshio Suzuki said: "In this day and age, there are various great ways a film can reach audiences. We've listened to our fans and have made the definitive decision to stream our film catalogue. We hope people around the world will discover the world of Studio Ghibli through this experience".
Wild Bunch International CEO, Vincent Maraval, said: "In finding the best digital partner for Studio Ghibli, our most valuable and faithful collaborators for 20 years, the Netflix team convinced us with their consistent love and energy for finding the best ways to promote the incredible and unique catalogue worldwide with respect to the Studio Ghibli philosophy".
Founded by Isao Takahata and Hayao Miyazaki in 1985, Studio Ghibli has produced 22 feature-length films, which have been hits in Japan and around the world. Although he has announced his retirement on a few occasions, Miyazaki is currently working on a new feature based on Genzaburo Yoshino's novel How Do You Live?
Last year, WarnerMedia-owned streaming service HBO Max acquired US streaming rights to the Studio Ghibli library and will offer the titles from its launch in spring 2020. In addition, GKids acquired the films for digital download-to-own across all North American digital platforms.