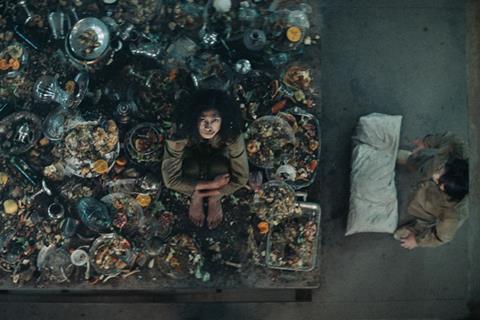 Netflix has acquired worldwide rights excluding select Asian territories to the Spanish TIFF Midnight Madness sci-fi hit The Platform.
The streamer swooped in a deal with XYZ Films, CAA Media Finance and Latido Films. The film had generated strong heat since its world premiere last Friday (6). It screens again in TIFF on Sunday September 15.
Galder Gaztelu-Urrutia makes his feature directorial debut from a screenplay by David Desola and Pedro Rivero. Ivan Massague (Pan's Labyrinth) and Antonia San Juan (All About My Mother) star in the story about a man who volunteers to be incarcerated in a dystopian prison with the prmose of moving up the social ladder.
The institution is a vertically stacked prison where cells move each month and inmates are get to partake of a gourmet feast that moves to the next level after a few minutes at each level. Zorion Eguileor, Emilio Buale and Alexandra Masangkay also star.
Screen wrote in its review, "Part Swift, part Saw, and determinedly grim, this Toronto premiere is sure to become a cult favorite of similarly uncompromising horror fans,, although its mood could be too dark for mainstream success."
Carlos Juárez produced The Platform, and co-producers are David Matamoros and M. a. Angeles Hernández in association with Basque Films, Mr. Miyagi Films, and Plataforma la película AIE. Raquel Perea and Carlos Juárez served as executive producers.
Gaztelu-Urrutia directed the short films 913 and The House On The Lake.
Latido previsouly licensed The Platform for Japan (Klockworx), South Korea (Activers Entertainment), Taiwan (Creative Century Entertainment), and Hong Kong and Macau (Edko Films).
"When Carlos Juárez from Basque Films showed us the first images of The Platform we knew we were in the presence of greatness," said Latido Films. "Once we saw the film at Malaga's Work in Progress, we confirmed that Galder was a visionary director who needed to be discovered by the International Market. That is the reason why we gave The Platform our Latido Award. We are extremely happy that this deal with Netflix, thanks to the collaboration of CAA and XYZ, will make the film get the attention it deserves."