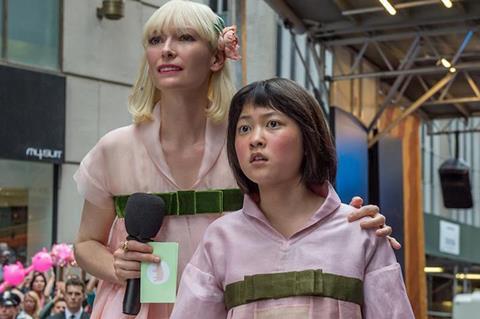 Netflix has announced that Okja will be re-released in 36 theatres across America on November 3.
Okja will screen at all iPic theatres and an additional 20 locations in cities including New York, Los Angeles, San Francisco, Chicago, Cleveland, Seattle, and Denver.
After premiering in Competition at the 70th Cannes Film Festival in May, Okja debuted on the streaming platform in 190 countries in June. It had a limited theatrical release in the US, Canada, South Korea, and the UK.
Okja, directed by Bong Joon Ho, stars Tilda Swinton, Jake Gyllenhaal, Paul Dano, Giancarlo Esposito, Steven Yeun, and Lily Collins.
The film tells the story of a young girl who risks everything to prevent a powerful company from kidnapping her best friend, a massive animal named Okja. Bong and Jon Ronson wrote the script.
Plan B Entertainment, Lewis Pictures, and Kate Street Picture Company produced Okja, in association with Netflix.