EXCLUSIVE: Film stars Shady Srour as a man who provides for his family by selling bottled holy air.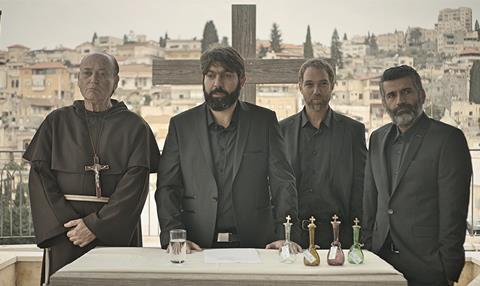 New Europe Film Sales has picked up Israeli comedy Holy Air and will be representing the project at this week's European Film Market (EFM) in Berlin.
The move follows New Europe's acquisition of Israeli comedy One Week And A Day, which played at Cannes Film Festival last year in the Critics' Week strand.
Holy Air is set in the Arab Christian community of Nazareth, it tells the story of a man who, after his wife gets pregnant, decides it is time to make it big and provide for his family by selling bottled holy air to tourists.
It is written and directed by Shady Srour, the Israeli actor known for appearing in Oscar-nominated short Ave Maria. He also stars in the film alongside French actress Laetitia Eido in the main roles.
Holy Air was produced by Ilan Moskovitch's Tree M Productions and Srour's own Cinema Virgin with the support of the Israeli Film Fund and Gesher Film Fund. The project participated in Cannes L'Atelier in 2013 and also appeared at Sarajevo Film Festival's work in progress strand in CineLink 2016.
New Europe will discuss the film with buyers in Berlin. A world premiere is being lined up for a Spring festival.
The company's EFM slate also includes: Porto starring Anton Yelchin; Zoology (Karlovy Vary Special Jury Prize, Toronto, Fantastic Fest), Quit Staring At My Plate (Venice Days), The Last Family (Best Actor Award in Locarno), One Week And A Day (55. Cannes Semaine de la Critique – GAN Distribution Prize) and United States Of Love (Silver Bear, 66. Berlinale).