First images released of period drama Eisenstein In Guanajuato.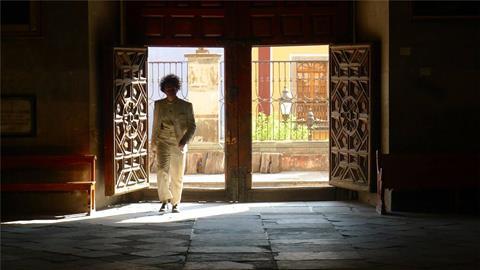 Peter Greenaway, the British director of more than 50 films including The Cook, The Thief, His Wife and Her Lover, has started shooting his new film, Eisenstein in Guanajuato.
The feature centres on legendary filmmaker Sergei Eisenstein - the director of Battleship Potemkin - with Finnish actor Elmer Bäck (The Spiral) playing the title role.
Mexican actor Luis Alberti plays the role of his guide (Palomino Cañedo), South African actor Stelio Savante is Hunter S Kimbrough and Lisa Owen plays Mary Craig Sinclair.
The international co-production is led by producers Bruno Felix and Femke Wolting from Submarine and San Fu Maltha from Fu Works. The entire film will be shot in Guanajuato, Mexico.
France's Rezo Film is the film's sales agent and it is expected to receive a theatrical release in September 2014.
The film shows how Russian-born Eisenstein spent ten days in Guanajuato, Mexico, in 1931, during which time the 33-year-old falls in love and loses his virginity.
Greenaway said of Eisenstein: "In a time when cinema is dying, it is pertinent to celebrate cinema's greatest practitioner.
"The business of cinema never seems to change. Many of the problems Eisenstein had in 1931, have reappeared all over again. Difficulties of financing, problems of logistics, cultures and language barriers. Such as Eisenstein rose to these problems, so do we".
Eisenstein in Guanajuato is an international co-production between Submarine and Fu Works (The Netherlands), and Paloma Negra Films (Mexico), Edith Film (Finland) and Potemkino (Belgium, Cub).
Broadcasting organizations VPRO (The Netherlands), ZDF/Arte (Germany/France) and YLE (Finland) are supporting the film.
All photos - Karin De Boer