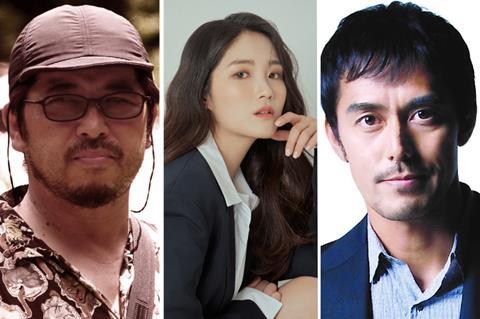 The New York Asian Film Festival (NYAFF) has unveiled the full line-up for its 20th edition, which will include honorary awards for Japanese horror director Takashi Shimizu, acclaimed Japanese actor Hiroshi Abe and South Korean rising star Kim Hye-yoon.
This year will mark NYAFF's fully-fledged return to the big screen, following a virtual 2020 edition and a hybrid event in 2021. More than 60 new and classic titles from Asia, including six world premieres, will be presented as in-person screenings at Film at Lincoln Center (FLC) and the Asia Society, from July 15–31.
The festival will also see three honorary awards bestowed by NYAFF and Screen on renowned and rising talent. The Screen International Star Asia Lifetime Achievement Award will be given to Japan's Shimizu, whose horror features over more than three decades have included The Grudge franchise and Ox-Head Village, which he will also present at NYAFF in its North American premiere. He will also present a masterclass at the festival.
Receiving the Screen International Star Asia Award will be Japanese actor Hiroshi Abe, who first came to prominence in Trick in 2002, and has since starred in Hirokazu Kore-eda's Still Walking and After the Storm, and Hideki Takeuchi's Thermæ Romæ, for which he won his first Japan Academy Film Prize for best actor. Abe also stars in Eiji Uchida's Offbeat Cops, which will receive its world premiere at NYAFF.
NYAFF will also award a Screen International Rising Star Asia Award to South Korea's Kim Hye-yoon, who has featured in Kim Yoon-seok's Another Child and Kwon Oh-seung's Midnight and takes her first leading role in Park Ri-woong's The Girl On A Bulldozer. As previously announced, Urassaya "Yaya" Sperbund will also receive the rising star honour and will be seen in NYAFF opening film Fast & Feel Love.
Centrepiece, closing films
The festival had previously revealed several titles for this year's edition but today announced that its Centrepiece Film will be Kim Han-min's period action-war epic Hansan: Rising Dragon, the second in a trilogy focusing on the historic adventures of Joseon Admiral Yi Sun-Shin. It marks the follow-up to 2014's The Admiral: Roaring Currents, the highest-grossing film in Korean cinema history, and will be released later this year by Well Go USA.
NYAFF also announced it will close its 20th edition with sci-fi feature Alienoid, from Korean director Choi Dong-hoon, who will introduce the North American premiere at the festival. The fantasy features Ryu Jun-yeol, who received the NYAFF Screen International Rising Star Asia Award in 2019, and Kim Tae-ri, whose credits include The Handmaiden. It will also be released later this year by Well Go USA.
The festival's best feature film competition comprises eight titles including Nawapol Thamrongrattanarit's Fast & Feel Love from Thailand and world premieres of Ken Kwek's Singapore feature #LookAtMe and Nik Amir Mustapha's Malaysian film Imaginur.
Further honours set to be handed out during the festival include the Daniel A. Craft Award for Excellence in Action Cinema, which will go to South Korean actor Jang Hyuk, star of Choi Jae-hun's The Killer and The Swordsman. Korea will be widely feted at this year's NYAFF with star Ryu Seung-ryong receiving the inaugural Best from the East Award, which honours a singularly outstanding performance in a film for his role in Perhaps Love.
NYAFF 2022 line-up
Fast & Feel Love (Thai) Opening film
Dir. Nawapol Thamrongrattanarit
Hansan: Rising Dragon (S Kor) Centrepiece film
Dir. Kim Han-min
Alienoid (S Kor) Closing film
Dir. Choi Dong-hoon
Uncaged Award for Best Feature Film Competition
#LookAtMe (Sing)
Dir. Ken Kwek
Angry Son (Jap)
Dir. Kasho Iizuka
Imaginur (Malay)
Dir. Nik Amir Mustapha
One And Four (China)
Dir. Jigme Trinley
Perhaps Love (S Kor)
Dir. Cho Eun-ji
Reclaim (Tai)
Dir. CJ Wang
The Sales Girl (Mong)
Dir. Janchivdorj Sengedorj
Fast & Feel Love (Thai)
Dir. Nawapol Thamrongrattanarit
Crowd Pleasers
Mama Boy (Tai)
Dir. Arvin Chen
Mama's Affair (HK)
Dir. Kearen Pang
My Best Friend's Breakfast (Tai)
Dir. Du Zheng Zhe
Offbeat Cops (Jap)
Dir. Eiji Uchida
Stellar: A Magical Ride (S Kor)
Dir. Kwon Soo-kyung
Table For Six (HK)
Dir. Sunny Chan
We Are Family (HK)
Dir. Benny Lau, Hong Kong 2022 | World Premiere
Genre Masters
Confession (S Kor)
Dir. Yoon Jong-seok
Lesson In Murder (Jap)
Dir. Kazuya Shiraishi
Ox-Head Village (Jap)
Dir. Takashi Shimizu
Preman: Silent Fury (Indo)
Dir. Randolph Zaini
Shin Ultraman (Jap)
Dir. Shinji Higuchi
The Funeral (Tai)
Dir. Dan-Guei Shen
The Killer (S Kor)
Dir. Choi Jae-hun
The Swordsman (S Kor)
Dir. Choi Jae-hun
Next/Now
Chilli Laugh Story (HK)
Dir. Coba Cheng
Fire On The Plain (China)
Dir. Zhang Ji
I Haven't Done Anything (S Kor)
Dir. Park Sang-min
Legendary In Action! (HK)
Dirs. Justin Cheung, Li Ho
Virgin Blue (China)
Dir. Niu Xiaoyu
Beyond Borders
Before Next Spring (China)
Dir. Li Gen
Far Far Away (HK)
Dir. Amos Why
Finding Bliss: Fire And Ice - The Director's Cut (HK)
Dirs. Kim Chan, Dee Lam
Frontlines
Arisaka (Phil)
Dir. Mikhail Red
Broken Commandment (Jap)
Dir. Kazuo Maeda
The Girl On A Bulldozer (S Kor)
Dir. Park Ri-woong
Standouts
Big Night! (Phil)
Dir. Jun Robles Lana
Hot Blooded (S Kor)
Dir. Cheon Myeong-kwan
I Am More (S Kor)
Dir. Lee Il-ha
Manchurian Tiger (China)
Dir. Geng Jun
Next Door (S Kor)
Dir. Yeom Ji-ho
Vanguards
Grown-Ups (Jap)
Dir. Takuya Kato
Intimate Stranger (Jap)
Dir. Mayu Nakamura
Life For Sale (Tai)
Dir. Tom Teng
Nothing Serious (S Kor)
Dir. Jeong Ga-young
Ribbon (Jap)
Dir. Non
Ripples Of Life (China)
Dir. Wei Shujun
Terrorizers (Tai)
Dir. Ho Wi Ding
HKETO, Classic Marathon
Happy Together (HK)
Dir. Wong Kar Wai
Kung Fu Hustle (HK)
Dir. Stephen Chow
Overheard (China-HK-Sing)
Dir. Alan Mak, Felix Chong
Running On Karma (HK)
Dirs. Johnnie To, Wai Ka-Fai
The Eye (HK-Sing)
Dir. Pang brothers
Josie Ho Tribute
Dream Home (HK)
Dir. Pang Ho-cheung
Full Strike (HK)
Dirs. Derek Kwok, Henri Wong
Asian American Focus
Dealing with Dad (US)
Dir. Tom Huang