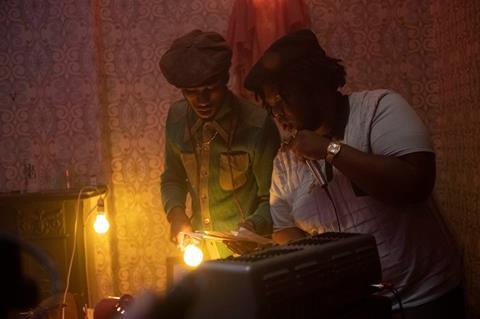 Three films from Steve McQueen's BBC/Amazon Small Axe anthology examining London's West Indian community over several decades will screen at the 58th New York Film Festival (NYFF) as organisers announced the Main Slate on Thursday (August 13).
Festival brass have moved the festival forward by one week to September 17–October 11 to expand access to the festival via drive-in screenings.
McQueen's Lovers Rock (pictured) was previously unveiled as the opening night selection and is joined by Mangrove and Red, White And Blue, the latter of which is a 1980's-set drama starring John Boyega as Leroy Logan, a member of the Metropolitan Police Force who witnessed and experienced institutional racism.

The selection includes Heidi Ewing's love story I Carry You with Me (Te Llevo Conmigo); Jia Zhangke's documentary about three authors who chronicle life in China since the 1950's in Swimming Out Till The Sea Turns Blue; Sundance feelgood documentary hit The Truffle Hunters from Michael Dweck and Gregory Kershaw; and Gianfranco Rosi's Notturno, a meditation on the rise of ISIS set along the borders of Iraq, Kurdistan, Syria, and Lebanon.
As previously announced, Chloé Zhao's Nomadland is the Centerpiece selection on September 26, and Azazel Jacobs's French Exit will close the festival on October 10.
NYFF 2020 Main Slate:
Lovers Rock
Dir. Steve McQueen
Opening Night
Nomadland
Dir. Chloé Zhao
Centerpiece
French Exit
Dir. Azazel Jacobs
Closing Night
Atarrabi and Mikelats
Dir. Eugène Green
Beginning
Dir. Dea Kulumbegashvili
The Calming
Dir. Song Fang
City Hall
Dir. Frederick Wiseman
Days
Dir. Tsai Ming-liang
The Disciple
Dir. Chaitanya Tamhane
Gunda
Dir. Victor Kossakovsky
I Carry You With Me (Te Llevo Conmigo)
Dir. Heidi Ewing
Isabella
Dir. Matías Piñeiro
Malmkrog
Dir. Cristi Puiu
Mangrove
Dir. Steve McQueen
MLK/FBI
Dir. Sam Pollard
Night Of The Kings (La Nuit Des Rois)
Dir. Philippe Lacôte
Notturno
Dir. Gianfranco Rosi
Red, White and Blue
Dir. Steve McQueen
The Salt Of Tears (Le Sel Des Larmes)
Dir. Philippe Garrel
Swimming Out Till the Sea Turns Blue
Dir. Jia Zhangke
Time
Dir. Garrett Bradley
Tragic Jungle (Selva Trágica)
Dir. Yulene Olaizola
The Truffle Hunters
Dir. Michael Dweck, Gregory Kershaw
Undine
Dir. Christian Petzold
The Woman Who Ran
Dir. Hong Sangsoo.
"The disorientation and uncertainty of this tough year had the effect of returning us to core principles," said Dennis Lim, director of programming for NYFF. "To put it simply, the Main Slate is our collective response to one central question: which films matter to us right now?
The Main Slate selection committee, chaired by Dennis Lim, includes NYFF director Eugene Hernandez, Florence Almozini, K. Austin Collins, and Rachel Rosen. Sofia Tate is the NYFF programming coordinator, and Violeta Bava, Michelle Carey, Leo Goldsmith, Rachael Rakes, and Gina Telaroli serve as festival advisors. Matt Bolish is the producer of NYFF.
In May, organisers at NYFF presented by Film at Lincoln Center unveiled a new festival structure under the leadership of Hernandez and Lim. The festival's offerings have been streamlined into five sections, with the Main Slate at the heart.
Currents, Spotlight, Revivals, and Talks will be announced in the coming weeks.