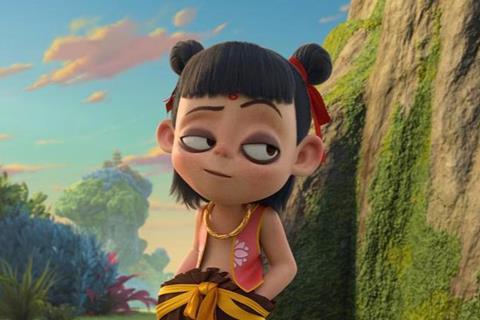 Chinese animated feature Nezha has overtaken Disney's Zootopia to become the highest-grossing animation of all time at the Chinese box office.
Nezha broke Zootopia's $220m (RMB 1.5bn) record on August 2 after only eight days on release. As of Monday morning (August 5), the film had grossed $343m (RMB2.38bn) and was accounting for around 62% of the country's total box office on 47% of screenings.
According to reports on Mtime, industry insiders are predicting Nezha could reach the RMB4bn benchmark as it will have at least another month in theatres.
Last week, Nezha broke the record for highest-grossing Chinese animated feature of all time, beating Monkey King: Hero Is Back, which grossed $138m in 2015.
However, it now faces competition from The Bravest, which opened on August 1 and has grossed $82m (RMB571m) in its first four days. Produced by Andrew Lau for Bona Film Group, the patriotic action film is based on real events and revolves around a group of Chinese firefighters battling a blaze following the explosion of an oil pipeline.
Released in 2016, Zootopia was an unexpected hit in China where US studio animations usually only gross around the $20-50m mark. It was followed by Coco, which grossed $175m in 2017. Industry insiders say these two films worked because they had strong family values or certain sequences that touched Chinese audiences. Meanwhile, China-themed Kung Fu Panda 3, co-produced by DreamWorks Animation and Oriental DreamWorks, grossed $145m also in 2016.
Despite the cancellation of four high-profile local titles expected this summer, the box office for Chinese films appears to be recovering with two recent live-action titles also racking up big numbers – Hong Kong-China co-production The White Storm 2: Drug Lords, which has grossed $188m to date, and Deng Chao's family drama Looking Up, now on $122m.