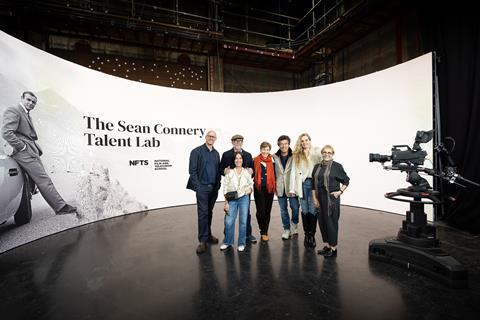 The National Film and Television School (NFTS) has launched a training programme for emerging Scottish filmmakers in partnership with the Sean Connery Foundation and BBC Film.
Thirty filmmakers will participate in the Sean Connery Talent Lab, a 12-month programme to produce short films budgeted at £25,000. The films are supported by BBC Film while the Sean Connery Foundation will subsidise 70% of the course fees to ensure the course is accessible.
Further support will come from The Dana and Albert Broccoli Foundation, FirstStage Studios, Blazing Griffin, DNA Films, Hartswood Films, Juniper Trust, LS Productions, the Rank Foundation and Synchronicity Films.
Students will receive an NFTS Diploma in filmmaking at the end of the course while their short films will be submitted to UK and international festivals.
"As we expand our work in Scotland, the NFTS, the Sean Connery Foundation and our raft of pivotal partners are dedicated to nurturing the brightest emerging stars within Scottish filmmaking," said NFTS director Jon Wardle.
The Talent Lab will be based in Edinburgh at FirstStage Studios, marking NFTS' Scottish expansion outside of Glasgow.
"Our vision has been to expand access to the film and TV industry for talented Scots who may never have dreamt they could access the film industry, especially those who have faced challenges or deprivation," said Stephane Connery, chair of the Sean Connery Foundation.
Applications are now open and will close on January 29, 2024. The course starts in April of next year and runs part-time.
Jason Connery added: 'Dad always believed that education was a vital investment for anyone to achieve their full potential, and so supporting a programme that will enable emerging Scottish filmmakers to realise their own unique vision and hone their particular talent within a collaborative environment, with a view to benefitting the wider Scottish film industry, is a dream come true."