A Scottish offshoot of the National Film and Television School was announced this morning (Friday) by Scottish first minister Nicola Sturgeon during her keynote speech at the Edinburgh International Television Festival.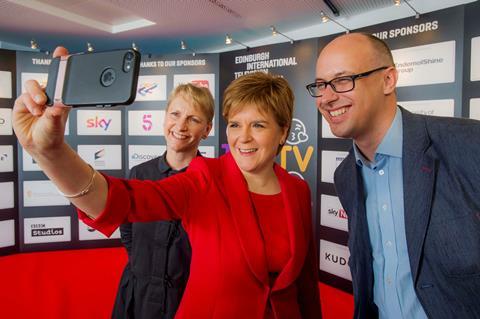 The facility will be based at BBC Scotland's studios in Pacific Quays in Glasgow and at Dumbarton Studios, just outside of Glasgow.
As the NFTS prepares to launch its Scotland hub, newly appointed director Jon Wardle has outlined his long-term vision for the school in an exclusive interview with Screen.
NFTS Scotland is expected to open in January 2018 with students enrolling from April 2018.
The news comes as BBC Scotland ramps up after what BBC director-general Tony Hall earlier this year called "the biggest single investment by the BBC in broadcast content in Scotland in over twenty years. The BBC has now committed additional investment of £40m a year in Scotland.
Next year sees the launch of a new TV channel, BBC Scotland. The Beeb has also committed to making "three or four shows the scale of Dr Who in Scotland in the next five years."
With this upsurge in activity, skills shortages could quickly become an issue.
"We're not going to solve that in year one but our hope over time is to start building a skills cadre who can start working on these shows," Wardle said of NFTS Scotland.
In the first instance, NFTS Scotland won't run full-time courses. Instead, there will be a range of part-time and short-term courses on such subjects as script editing and production management. The new organisation will also look to work closely with executive producers of new shows, setting up specific courses in order to deal with any skills gaps they might have.
NFTS Scotland will look to provide courses for film as well as TV. "We are talking to people like (producers) Iain Smith and Andrew Macdonald about their ambitions in Scotland and we will do stuff on the film side as well."
The school has secured strong support from a range of industry partners including STV, Channel 4, the British Film Institute (BFI) and the producers of Outlander.
NFTS Scotland is to receive £475,000 in start up funding from the Scottish Government.
Specialist courses will be designed to meet the growing needs of film and television production companies in Scotland and will include three-month certificate courses; 12 month full-time and part-time diploma courses; and short courses to provide 'Continuing Professional Development' (CPD) in key film, television and games craft disciplines.
Projected annual student numbers are expected to be in the region of 450 (100 full time, 50 part time and 250 on CPD courses) with over 1500 students expected to graduate from the facility within five years.
"NFTS' plans will complement and expand the training opportunities available in Scotland," Sturgeon commented in her keynote speech. "We have seen a rise in high-profile film and television productions being made in Scotland, and this government is focused on ensuring that continues. That is why we are establishing a new Screen Unit within Creative Scotland to better coordinate public sector support for screen."
Setting up in Scotland is only an early step as NFTS looks to strengthen its presence across the UK as a whole. The school already runs an animation course in Bristol with Shaun The Sheep creators Aardman Animations.
The NFTS, founded in 1971, has expanded gradually over recent years but, according to Wardle, doesn't have the capacity for more than 500-550 students at its Beaconsfield base. That's why it is looking to open offshoots across the UK. As Wardle explains, NFTS needs to grow to prosper and will look to offer a broader range of courses.
"The history of the school is in being very, very small and we do believe small is beautiful but when I joined the NFTS five years ago, it had 200 students and the economics of that are incredibly challenging," said Wardle, who became deputy director in 2012 having run the Centre For Excellence in Media Practice at Bournemouth University.
NFTS recently raised £20 million to open new facilities, The "Channel 4 Rose Building" and the "Sky Studios."
"The big strategic goal when we built those buildings was to raise student numbers but not by adding students into existing courses but by adding new courses," Wardle explained. "We train eight fiction directors and eight documentary directors each year. Although we get hundreds of applications for some of those courses, you shoot yourself in the foot if you start taking extra students in some of those disciplines because then they don't get the jobs, you can't get them agents and the quality diminishes."
Instead, NFTS is adding a wide range of new courses in such disciplines as production accounting, assistant directing, script supervision and marketing, sales, distribution and exhibition.
The long term aim is to expand the Beaconsfield base yet further. Wardle estimates the school will "run out of capacity" by the end of 2019 and will then look to expand the site further but that will involve a lengthy fund-raising process likely to take many years. In the meantime, the school is looking to follow up on NFTS Scotland with initiatives elsewhere.
"We definitely see this (NFTS Scotland) as a pilot for further work with the nations and regions," Wardle told Screen. "The next stage in our development as a school is to take the world class offer of what we do and try to make it increasingly accessible across the UK."