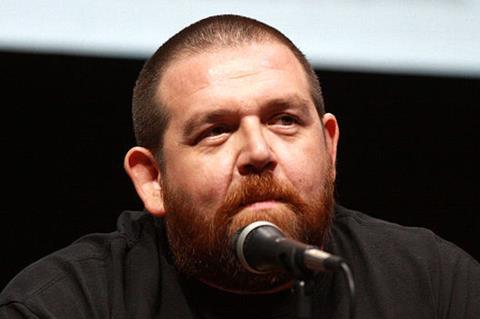 Nick Frost (Shaun Of The Dead) has joined the voice cast of upcoming family animation Stardog And Turbocat.
Frost will voice the title character Stardog in the film about a vigilante super-cat who teams up with a dog to help him track his lost owner. He joins Luke Evans, Bill Nighy and Gemma Arterton, who have all completed recording for the film, which is due for delivery in summer 2019.
Kaleidoscope Film Distribution is representing sales on the project. The company has also added a further three titles to its slate ahead of the American Film Market in Los Angeles.
Those include another family animation with Coconut The Little Dragon - Into The Jungle, the sequel to 2014 German animation Coconut The Little Dragon (Der kleine Drache Kokosnuss).
Produced by Gabriele Walther for German animation studio Caligari Films, and directed by Anthony Power, the film sees Coconut join forces with two rival dragon families to defeat a scary shared enemy. The film will have a market screening at AFM.
Kaleidoscope will also handle sales on documentary Porndemic, which tells the tale of a deadly scandal that rocked California's adult film industry in the late 1990s. The film features adult stars including Ron Jeremy, Marc Wallice and Tricia Devereaux and is directed by Brendan Spookie Daly.
The company also has Second World War thriller Lancaster Skies, which tells the story of a hardened spitfire pilot who attempts to lead a new Lancaster bomber crew over enemy skies. The film is directed by Callum Burn and is produced by Andrew Burn, both of Tin Hat Productions. Cast includes Tom Gordon, David Dobson, Rosa Coduri and Kris Saddler.
Kaleidoscope CEO Spencer Pollard said that the slate reflects a "market that is desperate for identifiable commercial films, with strong selling points and potential theatrical or multi-platform release strategies".