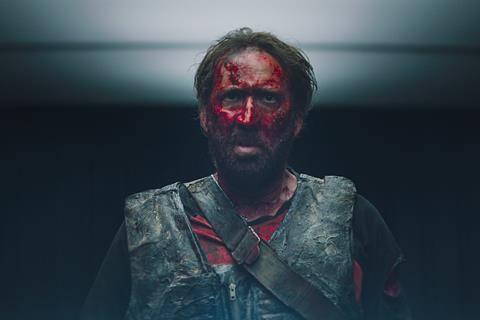 Mandy, the revenge thriller starring Nicolas Cage that premiered at Sundance in January, has landed at RLJ Entertainment in a US deal.
The distributor plans a summer theatrical launch to Panos Cosmatos' film about a man who plunges into a world of bloody revenge when his peaceful woodland existence is shattered by a cult. Andrea Riseborough and Linus Roache round out the key cast.
RLJE Films plans a summer theatrical release and negotiated the rights with XYZ Films.
"The best reviewed movie at Sundance is also one of Cage's most extraordinary performances, reinvigorating our love and appreciation of him," Mark Ward, RLJE chief acquisitions officer, said. "Panos' is a truly visionary filmmaker and we are beyond excited to unleash MANDY to the masses."
SpectreVision, XYZ Films, and Umedia produced the feature, financed by Umedia and Piccadilly Pictures with additional support from Wallimage.