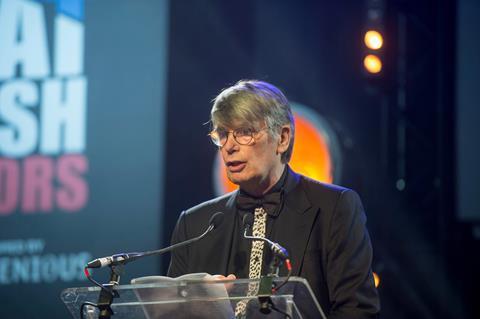 Nik Powell, the former director of the UK's National Film And Television School (NFTS), has died aged 69.
Powell had been receiving treatment for cancer. He died this morning (November 7) in Oxford, with his family beside him.
He was director of the NFTS from 2003 to 2017, and received a Bafta for Outstanding British Contribution to Cinema in 2018.
Prior to his role at the NFTS, he established Palace Pictures with Stephen Woolley in 1983, which produced titles Mona Lisa (1986) and The Crying Game (1992).
Following Palace's collapse in 1992, Powell formed Scala Productions, also with Woolley, which made titles including Fever Pitch (1997) and Ladies In Lavender (2004).
He was also one of the co-founders of the Virgin Group alongside Richard Branson in 1970.
NFTS director Jon Wardle said: "I spent five incredibly happy years working with Nik as his deputy. He was a good friend and I will miss him hugely. He told me recently how his work to support and develop NFTS students to reach their full potential was probably the professional achievement he was most proud of. Nik leaves an unrivalled legacy and no one has done more than him to set the bar high. We will continue to strive for the future success of the School in his honour."
A colourful history
Powell's death deprives the British film industry of one of its most dynamic and flamboyant figures. As a producer and executive producer, Powell was involved in over 40 films, working with a huge range of directors, Neil Jordan, Shane Meadows, Terence Davies, Iain Softley and Julien Temple among them.
Powell was a prominent figure in the European Film Academy, chairman of the Bafta Film committee, a member of the British Screen Advisory Council and the European Producers Club, and served on many other boards and committees. A producer and entrepreneur, Powell spent 14 years at the helm of the National Film and Television School. Before that, he was part of UK national lottery franchisee, The Film Consortium.
Born in 1950, Powell started his career in the record business. He grew up in the same village as Richard Branson, with whom he co-founded the Virgin Group, before leaving to set up Palace Pictures with Woolley.
Originally conceived as a video distribution company, Palace made some of the most distinctive British films of the 1980s and early 1990s, among them The Company Of Wolves (1984), Mona Lisa (1986), Scandal (1989) and The Crying Game (1992).
"I thought the British film industry needed some more rock and roll," Powell later said of the maverick, freewheeling approach adopted by Palace. The old guard of the British film industry, represented by Rank and EMI, were startled and upset by Palace's unconventional approach to distribution. The company didn't shy away from releasing some of its titles day and date. It brought filmmakers like Sam Raimi and the Coen brothers to UK audiences.
Powell was an effective salesman with the ability to bend sceptics to his will. He also had a knack for spotting both creative talent and young industry executives with potential. Palace was a training ground for many executives later to have key roles in the British industry, among them figures like Robert Jones (producer of The Usual Suspects), Daniel Battsek (currently head of Film4) and Sue Bruce-Smith (deputy director at Film4).
He was a risk taker, working on the theory that if he wasn't ready to take the leap himself, many of the projects he backed would never see the light of day.
After Palace collapsed, Powell and Woolley set up Scala Productions in 1992, and Powell was still producing films through Scala at the time of his death. The veteran executive was in Rome last month for the festival screening of Milcho Manchevski's Willow, his enthusiasm as irrepressible as ever.
"The festival was fantastic for us I have to say – the Sala Petrassi was packed for our Premiere on Saturday evening, the audience response was excellent and the film received a five-minute standing ovation," Powell wrote shortly after the premiere at the end of last month. "Marco Bellocchio attended as Milcho's guest and loved the film. Plus it was 'standing-room only' at our second screening last Sunday! We are delighted."
Powell was also looking forward to Willow screening later this month at the Tallinn Black Nights Film Festival.