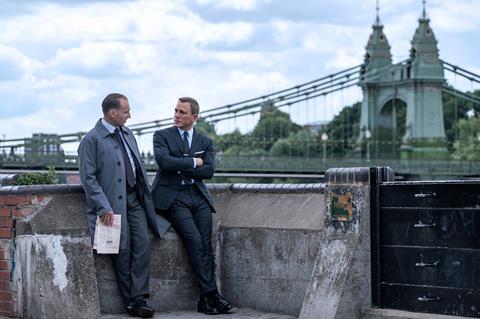 After three pandemic delays Eon and MGM's No Time To Die finally arrived in North American cinemas on $56m over the three-day weekend via United Artists Releasing (UAR). While the number one launch was slightly below estimates executives will be encouraged by the film's international staying power that has pushed it past $300m at the global box office.
The James Bond action thriller delivered the fifth highest debut of the pandemic and dethroned Columbia Pictures' Venom: Let There Be Carnage. It arrived on more than 15,000 screens in 4,407 cinemas, earning $23.3m on Friday, $18.2m on Saturday and $14.6m on Sunday.
Producers Barbara Broccoli and Michael G. Wilson were determined to preserve the exclusive theatrical release. No Time To Die was originally scheduled to open in April 2020 and became the first major casualty of the pandemic when MGM pushed the release to November of that year. Last October it pushed the film back to April 2021 and it was subsequently postponed again to its current date.
Bond had been projected to gross in the region of $55-60m and the debut illustrates ongoing hesitancy, particularly among the more mature crowd of film-goers who typically support the franchise. However UAR sources said No Time To Die coaxed around 25% of its audience into a cinema for the first time since the pandemic began.
James Bond releases do not tend to debut to the types of numbers enjoyed by other Hollywood tentpoles given their audience profile and the pandemic will not have helped. By way of comparison Spectre opened on $70.4m in 2015 and Skyfall delivered an $88.4m bow in 2012, albeit under different cinema-going circumstances. Both numbers are unadjusted for inflation.
The film cost around $250m to produce and a further $100m to market and reportedly needs to gross $800m worldwide to break even. UAR, Eon and MGM executives will be encouraged by the early international performance and said they expected the film to have legs in the weeks ahead. October brings a packed month of releases: Halloween Kills debut day-and-date via Universal and on Peacock next weekend, followed by Dune on October 22 day-and-date via Warner Bros and on HBO Max and The French Dispatch through Disney/Searchlight Pictures.
Exit polls revealed a 64%-36% male-female split in North America, with 57% over the age of 35 and 36% over the age of 45. By ethnicity 53% of the audience was White, 17% Latino, 14% African American, and 16% Asian/Other. IMAX and PLF formats accounted for 36% of the weekend.
No Time To Die produced a $145.5m global weekend which included an estimated $89.5m through Universal Pictures International (UPI) and MGM territories for a $257.3m international running total and $313.3m globally. It has amassed $200.7m via UPI and $52.6m from MGM territories.
Venom: Let There Be Carnage followed up last weekend's record-breaking launch in North America with $32m for $141.7m and slipped to second place. The film is expected to settle on around $146.5m including Monday's Indigenous Peoples' Day holiday.