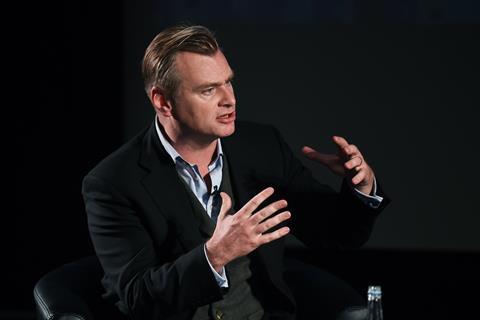 Universal will release Christopher Nolan's Oppenheimer in North America on July 21 2023 and has confirmed Cillian Murphy in the lead as "father of the atom bomb" J. Robert Oppenheimer.
Universal Filmed Entertainment Group chairman Donna Langley said at a virtual conference on Thursday that the studio will give the film an exclusive theatrical release of around 100 days. The studio holds worldwide rights.
The film is scheduled to go into production in early 2022 and is based on Pulitzer Prize-winning book American Prometheus: The Triumph And Tragedy Of J. Robert Oppenheimer by Kai Bird and Martin J. Sherwin, who died this week.
Nolan will direct from his adapted screenplay and is producing alongside Emma Thomas and Atlas Entertainment's Charles Roven. Announcing the release on Friday (October 8) Universal and Nolan and Thomas's Syncopy said the film was an "epic thriller that thrusts audiences into the pulse-pounding paradox of the enigmatic man who must risk destroying the world in order to save it".
Oppenheimer will shoot on a combination of Imax 65mm and 65mm large-format film and reunites Nolan with regular collaborators Roven (The Dark Knight trilogy), cinematographer Hoyte Van Hoytema (Tenet, Dunkirk, Interstellar), editor Jennifer Lame (Tenet) composer Ludwig Göransson (Tenet) and Murphy (Dark Knight trilogy, Inception).
Nolan has made most of his films at Warner Bros over the past 20 years and they collaborated on the exclusive theatrical release of Tenet last summer during the pandemic. He subsequently spoke out against WarnerMedia's day-and-date theatrical and HBO Max release strategy for all Warner Bros films in 2021, which did not impact Tenet. It is understood relations between the British filmmaker and Warner Bros have been strained since then.