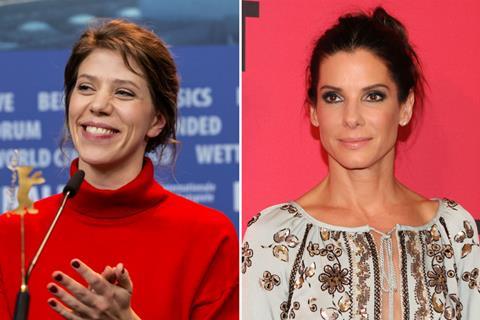 German director Nora Fingscheidt has been signed to direct Sandra Bullock in Netflix's untitled feature film remake of Sally Wainwright's 2009 drama series Unforgiven, about a woman seeking personal redemption after committing a violent crime as a teenager.
It will be a first English-language production for Fingscheidt after her debut German-language feature System Crasher about a problematic violent nine-year-old girl who is a danger to herself and those around her.
The film is Germany's submission to the best international film category of the 2020 Academy Awards, having premiered to acclaim at the Berlinale earlier this year.
In the new Netflix project, Bullock will play a woman who has recently been released from prison after serving a sentence for a violent crime she committed as a teenager.
As she tries to rebuild her life she finds society refuses to forgive her past. Facing severe judgment from the place she once called home, she decides her only hope for redemption is to find the estranged younger sister she left behind.
It will be Bullock's second collaboration with a European female arthouse director for Netflix after working with Danish filmmaker Susanne Bier on 2018 thriller Bird Box.
The new untitled series has been adapted from Wainwright's 2009 original, starring Suranne Jones in the lead, by Christopher McQuarrie.
Oscar-winning Bohemian Rhapsody, Tomb Raider producer Graham King is producing under his GK Films banner.
German producers Veronica Ferres and Frank Buchs at Munich-based Construction Film are also on board.
The company's credits include Werner Herzog's Salt And Fire, Nicholas Jarecki's Dreamland, about the American opioid crisis starring Gary Oldman, Luke Evans, Armie Hammer, Evangeline Lilly and Ferres.
It is also currently in pre-production on a remake of The Cakemaker with Academy Award nominated director Charles Shyer. Executive producers are Nan Morales, Nicola Shindler, Sally Wainwright and Colin Vaines.