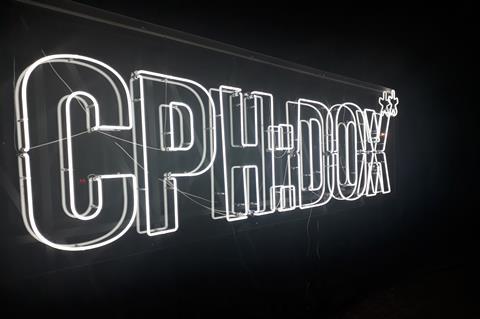 Six Nordic documentaries in post-production were presented at CPH:WIP, the work-in-progress strand of CHP:DOX, in Copenhagen today (March 26).
Footage from Katja Norregaard Hogseth's The Self Portrait particularly impressed the industry audience of funders, festivals, broadcasters, sales companies and distributors who said all of the projects were of a high calibre this year.The Self Portrait is an intimate portrait of Norwegian photographer Lene Marie Fossen, who has been near death with anorexia at the same time her international art career is on the rise.
The film is co-directed by Margreth Olin and Espen Wallin. Olin, whose directorial credits include Doing Good and Childhood. also produced the film for Norway's Speranza Film. Philippa Kowarsky's Cinephil is handling international sales.
"The film has to be beautifully told with an immense respect for her in every detail," said Olin of Lene Marie Fossen. "It's important that she and her parents want this film to be made. They believe they have an important story to be told. We want to change the way we view the deadliest of all mental illnesses."
The filmmakers have been following the artist for five years. "Her diseased mind is always waging a war with itself," Hogseth explained.
The Self Portrait will be finished in summer 2019.
The other projects presented at CPH:WIP 2019 were:
Sjalo – Island of Souls
Dir: Lotta Petronella
Prods: Ulla Simonen, Ilona Tolmunen and Johanna Tarvainen for MADE (Fin).
A filmmaker explores four seasons and 400 years of history on a remote Finnish island which formerly housed an asylum for 'incurable' women. The film will be delivered by late 2019; no sales company is attached yet. The project will also include a radio play and gallery piece.
Girl In The Mirror
Dir: Tone Grottjord-Glenne
Prods: Anita Rehoff Larsen for Sant & Usant (Nor) with co-producer Final Cut For Real (Den).
A coming-of-age story about a young woman dealing with the legacy of the sexual abuse she suffered as a child. The film is in the final stages of post, being readied for a November 2019 release. No sales company is on board yet. A large social impact campaign is being planned.
A Place Above The Sky
Dir: Carl Olsson
Prods: Caroline Drab for De Andra Film with co-producers Final Cut for Real (Den) and Allfilm (Est)
This story about the "industry of death" looks at what happens after we die. It follows people who work around death including hearse drivers and grave diggers. Anne Kohncke of Final Cut For Real said of Olssson, who also has his new film Patrimonium screening at DOX this year, "Carl truly is a special artist and he has such a strong signature approach and language." No sales company is attached yet. The film will begin editing in April for delivery in early 2020.
iHUMAN
Dir: Tonje Hessen Schei
Prod: Jonathan Borge Lie for UpNorth Film (Nor) with Made In Copenhagen as co-producer
The director called the film "a political thriller about artificial intelligence, power and social control." AI "can threaten our very democracy" Hessen Schei added. The film is in the final stage of editing and North American rights are represented by ro*co. The team is also working on an impact campaign and an interactive project with Mark Atkin at Crossover Labs.
Sweden's Magnus Gertten also spoke about his new documentary, which is under wraps because of its sensitive subject matter.