Five Nordic drama series will compete for the second annual Nordisk Film & TV Fond Prize, which will be presented on Jan 31 at the TV Drama Vision conference in Goteborg.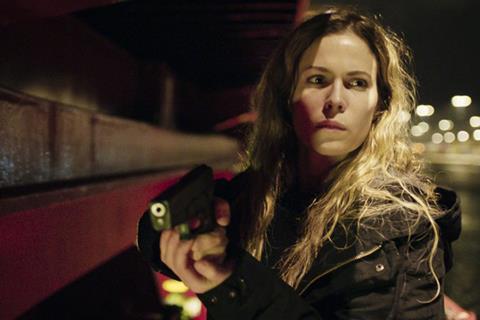 One drama series apiece from Denmark, Finland, Iceland, Norway and Sweden is nominated for the award, which comes with a prize of $25,000 (SEK 200,000) for the main writer(s) of the series. The first two episodes of each series are shown at the Goteborg Film Festival.
This year's nominees are Borderliner from Norway, Deadwind from Finland, The Lawyer from Sweden, Ride Upon The Storm from Denmark, and Stella Blomkvist from Iceland.
This year's jury includes Swedish acterss Sofia Helin (The Bridge); Walter Iuzzolino, the UK-based TV executive and curator of streaming service Walter Presents; and Finnish journalist Kirpi Uimonen Ballesteros.
Petri Kemppinen, CEO of Nordisk Film & TV Fond, said: "Initiating this prize a year ago was a great success. Buzz and debate rose on the appreciation of scriptwriters, creators of story layers and characters, and now we have a chance to witness how the writing has evolved. I think we need to look deeper into the process of mastering this skill, and highly trust TV Drama Vision and the Göteborg Film Festival in their efforts to create a great festival and professional conference."
Cia Edström, head of industry at Göteborg Film Festival, added: "We are proud to again this year be presenting the Nordisk Film & TV Fond Prize at TV Drama Vision. As we all know, good scripts are key to successful TV drama, so we are especially happy that this award puts a spotlight on and rewards this profession."
Full details on the nominees:
Borderliner (Grenseland), Norway, 8 x 60'
Nominated writers: Megan Gallagher, Alexander Opsal, Bjørn Ekeberg
Created by: Megan Gallagher, Alexander Opsal

Director: Gunnar Vikene
Producers: Håkon Briseid, Bård Fjulsrud
Produced by Monster Scripted for TV2
International Distributor: DRG
Faced with a tragedy in his family, honest Oslo cop Nikolai (Tobias Santelmann) decides to cover up a murder case to protect them. But when co-investigator Anniken (Ellen Dorrit Petersen) suspects foul play, he is trapped in a dangerous game on duty.
Deadwind (Karppi), Finland, 12 x 52'
Nominated writers: Rike Jokela, Kirsi Porkka, Jari Olavi Rantala
Director: Rike Jokela
Producers: Riina Hyytiä, Jojo Uimonen
Produced by Dionysos Films for YLE
International distributor: About Premium Content (APC)
Deadwind is a crime drama series mixing crime investigation and personal drama. The main character is Sofia Karppi (Pihla Viitala), a female detective in her 40's who has just lost her husband and is left alone with two children to take care of.
The Lawyer (Advokaten), Sweden, 10 x 44'
Based on an idea by Jens Lapidus, Hans Rosenfeldt, Michael Hjorth
Nominated writers: Karin Gidfors, Charlotte Lesche
Directors: Geir Henning Hopland, David Berron
Producers: Nicklas Wikström Nicastro, Joakim Hansson
Produced by SF Studios for Viaplay/TV3
International distributor: Studiocanal
Frank Nordling (Alexander Karim) is a young and exceptionally promising defense lawyer. When he learns the truth behind his parents' death, his whole world unravels. When he finds out who was responsible, he feels compelled to seek revenge.
Ride Upon The Storm (Herrens veje), Denmark, 10 x 60'
Nominated writer: Adam Price
Director: Kaspar Munk
Producer: Camilla Hammerich
Produced by DR Drama for DR
International distributor: Studiocanal
The character-driven drama explores good and evil and the spiritual journey towards seeking a greater meaning in life. The story centres on a family of priests that traces its roots back more than 250 years.
Stella BLomkvist, Iceland, 3 x 90' or 6 x 45'
Based on the best-selling crime novels written under the pseudonym Stella Blómkvist
Nominated writer: Jóhann Ævar Grímsson
Director: Óskar Þór Axelsson
Producer: Kjartan Thor Thordarson
Produced by Sagafilm for Síminn/Viaplay
International distributor: Red Arrow International
Stella Blomkvist (Heida Reed) a ruthless and cunning lawyer, takes on mysterious and often dangerous murder cases and only loves rules when she's breaking them.