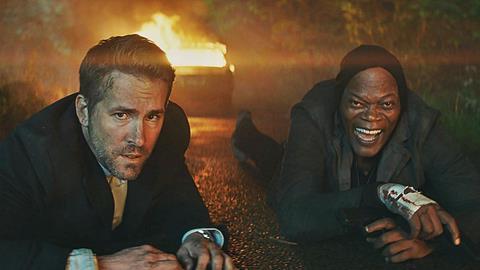 AUGUST 28 UPDATE: Box office in North America generated a confirmed $50.8m for the lowest aggregation of revenue from the top 12 films since September 2008 as severe storms in Texas and Saturday night's Floyd Mayweather-Conor McGregor boxing match battered theatre-going.
Speaking of that much-hyped contest, Fathom Events partnered with Mayweather Productions to stream the Las Vegas fight into 481 venues and generated $2.6m for ninth place.
This was one of the few bright spots in an otherwise miserable session that delivered the lowest August since 1993. Overall the summer season trails that of 2016 by approximately 14%, and the year-to-date is lagging behind by 5%.
The Hitman's Bodyguard held on to its top berth on $10.3m through Lionsgate as the running total climbed to $39.8m, a solid result given the reported $30m production tag excluding marketing spend.
New Line's Annabelle: Creation held firm in second place and stands at $78.2m after three weekends, while Steven Soderbergh's Logan Lucky fell 44.2% and two slots to number five on $4.2m for $14.9m after two sessions.
TWC opened its animation Leap! in third place on a dispiriting $4.7m in 2,575 theatres. There was better news for the thriller Wind River as it expanded by 694 sites to 2,095 and climbed 54.6% and six places to fourth, adding $4.6m for $10m after four.
BH Tilt opened Bruce Lee drama Birth Of The Dragon at number eight on $2.7m from 1,618 sites. Sony opened All Saints at number 16 on $1.5m from 846 venues. Fox International Productions' Bollywood drama A Gentleman arrived at number 28 on $191,530 from 135.
Terminator 2: Judgment Day 3D generated $552,773 as it opened at number 25 through Distrib Films in 386 sites. Director James Cameron was the centre of a vocal backlash last week following comments about Wonder Woman and the depiction of women on screen.
Overall the top 12 generated $50.8m to slide 37.4% from last weekend and fall 48.5% against the comparable session in 2016, when horror breakout Don't Breathe opened top on $26.4m.
This week's wide release is Tulip Fever via The Weinstein Company.
Confirmed top 10 North America August 25-27, 2017
Film (Dist) / Conf wkd gross / Conf total to date
1 (1) The Hitman's Bodyguard (Lionsgate-Summit) Lionsgate International $10.3m $39.8m
2 (2) Annabelle: Creation (Warner Bros) Warner Bros Pictures International $7.7m $78.2m
3 (-) Leap! (TWC) TWC International $4.7m –
4 (10) Wind River (TWC) TWC International $4.6m $10m
5 (3) Logan Lucky (Bleecker Street) $4.2m $14.9m
6 (4) Dunkirk (Warner Bros) Warner Bros Pictures International $3.9m $172.5m
7 (7) Spider-Man: Homecoming (Sony) Sony Pictures Releasing International $2.8m $318.9m
8 (-) Birth Of The Dragon (BH Tilt) $2.7m –
9 (-) Mayweather vs. McGregor (Fathom Events) $2.m –
10 (6) The Emoji Movie (Sony) Sony Pictures Releasing International $2.5m $76.6m