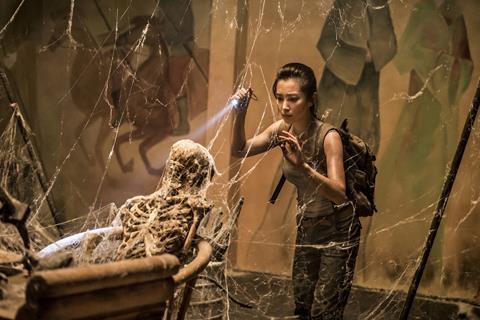 Arclight Films has struck North American and UK deals on action-adventure Guardians Of The Tomb starring Li Bingbing, Kellan Lutz, Kelsey Grammer and Chinese popstar Wu Chun.
Gravitas Ventures has picked up North American rights to the China-Australia co-production and Signature Entertainment will distribute in the UK.
The film from Nest Holdings and Sleeping Otters Productions is scheduled to open wide in 3D in China through co-producer Grand Canal Pictures and China Film Group on January 19, 2018.
Kimble Rendall directed the story from a screenplay he co-wrote with Paul Staheli (Triple Threat) about a team of scientists who stumble upon a Chinese labyrinth containing a mummified emperor and unleash a horde of super-intelligent, man-eating spiders.
Producers are Deng Shuo, Arclight chief Gary Hamilton, Ying Ye and Mark Lazarus. Rendall directed Bait 3D, which Arclight sold and went on to become one of the highest grossing Australian films in China.
"We are thrilled to have found such solid and professional partners to release Guardians of the Tomb in these major territories," Hamilton said. "We know that our film is in great hands and we are excited to see how the public reacts to what we know is a great time at the movies."