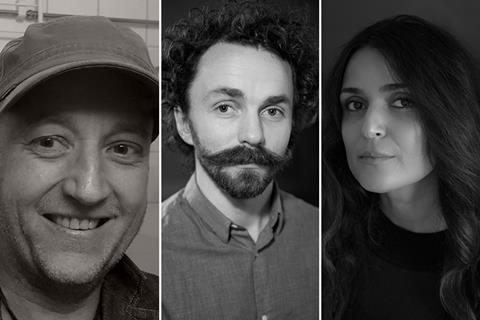 Norwegian producer Racha Helen Larsen of Yellow Log and her partner, director and cinematographer Egil Håskjold Larsen, are launching an international documentary film festival called Mirage. The first edition is taking place as a three-day event in Oslo from September 24-26.
Former IDFA programmer Martijn te Pas is part of the launch team.
"We felt so ashamed that none of these films we saw in [international] festivals could reach an audience locally in Norway," said Egil, whose credits include Where Man Returns and 69 Minutes Of 86 Days. He also co-shot Victor Kossakovsky's multi-award winning Gunda.
The festival, which has the subtitle, 'the art of the real', is offering a highly curated selection of documentary work across art forms.
Twenty-one films are screening at this month's soft launch, of which 15 are Norwegian premieres. A full edition is being planned for 2022 that will also include an industry section with a new pitching forum for artistic creative documentary.
This year's line-up includes opening title Ahmir "Questlove" Thompson's Summer Of Soul, Gianfranco Rosi's Notturno, Hubert Sauper's Epicentro, Anna Eborn's Pine Ridge, and Maya Kosa's Bird Island.
"The festival is also a way of putting these very vulnerable films in the spotlight. It is a kind of alternative distribution model," de Pas noted. "Throughout the year, there will also be screenings.
"This is a programme we are proud of for the first year," he continued. "There is a place for Mirage and that is important. It is important that it is going to be a lively festival where people are inspired or get angry. Films are shown that you can hardly ever see. I hope that industry will also feel that way. It [the event] is maybe more like Dokufest in Kosovo than CPH Dox or IDFA."
2022 event
The organisers are planning for the 2022 festival to have a competitive element but the organisers may forego juries in favour of decisions by individuals.
"Usually, in juries, there is always compromise. Not necessarily the best film wins," says Racha. "We want to have maybe just one person whom people respect [to] give out the prize. This is one idea we have to be a bit different than anyone else."
Mirage has support from the Norwegian Film Institute. Various local sponsors and partners have also come on board. The organisers are also collaborating with Ultima, the Oslo contemporary music festival, and says the festival will have an emphasis on literature and photography as well as documentary.
The festival is being launched at a time Norwegian documentary is flourishing, with the international sales and festival success of Gunda and The Painter And Thief.