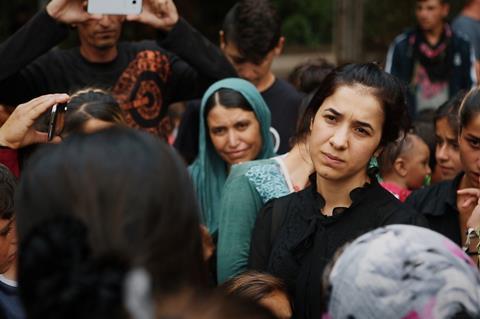 Oscilloscope Laboratories has acquired North American rights to Alexandria Bombach's documentary On Her Shoulders, the Sundance premiere that screens at SXSW this month.
O-Scope plans a theatrical release towards the end of the year on the story of Nadia Murad, a 23-year-old survivor of the 2014 genocide of the Yazidis in Iraq, who became the face of her people after she testified before the U.N. security council.
The film examines the hardships the young woman endures as she tells her story again and again, forced to relive the trauma for a greater good.
"On Her Shoulders is a film about Nadia Murad and the plight of the Yazidi people, but it's also about us – how we tell stories of trauma, and how we choose to listen," Bombach said. "It's an honour to have Oscilloscope bring this film to audiences, not only because of their reputation for supporting powerful films, but because of the team's intimate understanding of the nuance of this film and its importance."
"In a landscape filled with documentaries advocating for much needed social causes, I've never before seen one that advocates for the advocates themselves," Oscilloscope's Dan Berger said.
"Alexandria's film, through its deeply personal and intimate depiction, not only sheds light on the unimaginable horrors of a certain genocide, but also introduces us to a woman whose resounding and unflinching strength enables her to endure a burden that most people could never even imagine."
Haley Pappas of RYOT Films and Brock Williams produced, while RYOT CEO and co-founder Bryn Mooser served as executive producer alongside Matt Ippolito, Marie Therese Guirgis, Adam Bardach, and Alison Klayman.
UTA Independent Film Group negotiated the deal on behalf of RYOT. SXSW runs from March 9-18.