EXCLUSIVE: Paradigm represents North American rights to virus thriller.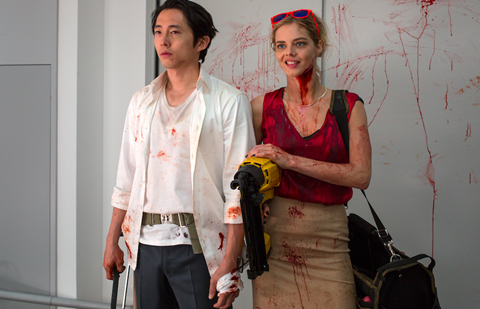 Octane Entertainment will launch international sales on the Croisette on Joe Lynch's SXSW action-thriller Mayhem starring Steven Yeun from The Walking Dead.
The story centres on attorney Derek Saunders who is framed by a co-worker and wrongfully fired when the tower office where he works is placed on lock-down after an airborne virus breaks out.
Matias Caruso wrote the screenplay and the cast includes Samara Weaving, Steven Brand and Dallas Roberts. Paradigm represents North American rights.
Avva Pictures' Mehrdad Elie and Parisa Caviani produce with Circle of Confusion's Lawrence Mattis and Matt Smith.
Octane Entertainment president Jack Campbell announced the deal on Friday and said: "We're beyond thrilled to be introducing Mayhem to international buyers in Cannes.

"It's such an amazing, fun, action-packed thrill ride that hooks the viewer from the first frame and does not disappoint. Director Joe Lynch pulls no punches in telling this unique pulse-pounding and compelling story."
"I'm thrilled that Octane is going to spread the Mayhem at Cannes this year," Lynch said. "We can't wait to unleash the film globally and excited to share what festival audiences have been enjoying so far: a good old-fashioned, R-rated rollercoaster ride with balls and heart… you know, for kids."
Producer Parisa Caviani added: "We are excited to be working with Octane Entertainment and are thrilled for Mayhem to reach the audience beyond borders."

Campbell brokered the deal with Ben Weiss and Derek Kigongo of Paradigm Talent Agency.
Octane's sales slate includes action title Scorched Earth with Gina Carano; family film Hope Springs Eternal with social media influencers Cimorelli, Beau Brooks and Lauren Giraldo; romance The Free World starring Elisabeth Moss, Octavia Spencer and Boyd Holbrook; and thriller Quarries with Leisha Hailey.