EXCLUSIVE: Swedish director working with Breaking Bad producer Mark Johnson.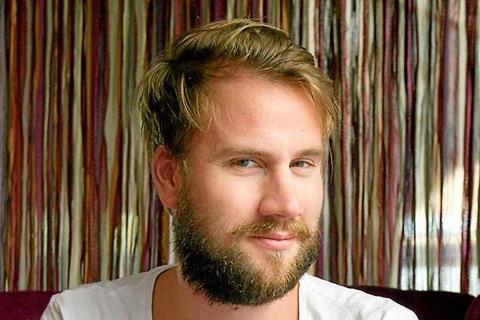 Andreas Ohman, the Swedish writer/director of 2010 Oscar-shortlisted drama Simple Simon, is attached to direct a US remake of the film.
A US writer is now being confirmed for the project, and Ohman will travel to Los Angeles this autumn to start collaborating on the film, which is expected to shoot in 2016.
Mark Johnson (Breaking Bad) is producing.
The original comedy, Simple Simon, is about an 18-year-old with Asperger's syndrome who tries to play matchmaker for his brother.
"I'm very confident with the story and feel like I've personally developed so much since I was 24 (and shot the first film)," said Ohman.
"It's similar, but it's a new take. Doing it in another language also helps to make it different… it also feels like my next step should be an international movie."
On the road
Ohman spoke to ScreenDaily at Goteborg's Way Out West festival (Aug 13-15), where he screened a preview of his new feature, Eternal Summer (Odödliga). SF will release the film in Sweden today.
The story follows two young people in Stockholm, Isak (Filip Berg) and Em (Madeleine Martin), who meet, start to fall in love, and go on an impulsive road trip through northern Sweden. When the trip turns sour, they must make tough decisions about their future.
Speaking about the genesis of Eternal Summer, Ohman said: "A very close friend of mine passed away and for a few months I didn't write anything. I didn't see the purpose of doing anything.
"I needed to do something he would have liked. It's not about him, but it's an energy that reminded me of him."
He added: "It's inspired by American road movies like Bonnie and Clyde, Badlands, and True Romance. It's been a while since we did a road movie in Sweden."
Ohman said both his young lead actors are destined for stardom and described Berg as "the new Joel Kinnaman. He's handsome, but vulnerable and also extremely funny".
The film, which Ohman wanted to make as a more DIY project rather than waiting for Swedish Film Institute backing, is produced by Johannes Hobohm & Bonnie Skoog Feeney. SF and TV4 invested in the film, as did private sources.
Ohman wants to keep moving between genres in his career, inspired by someone like Richard Linklater who also can't be pigeonholed. "I'm learning. You only develop if you challenge yourself to do something new. I'd love to make a sci-fi movie. I'm in love with movies, I love so many different kinds."
He is also discussing UK film projects and developing a potential Swedish TV series, The Wolves, about "a group of female heroes who hunt down rapists".
The team has raised crowdfunding to shoot the pilot, which will see women seeking specific kinds of vengeance that relate to the rapists' crimes. He said: "It could be controversial in Sweden, but it has potential to travel."