EXCLUSIVE: Germany's Oldenburg International Film Festival is to play host to the nomination committee for the European Film Awards' European Discovery - Prix Fipresci for the first time this year.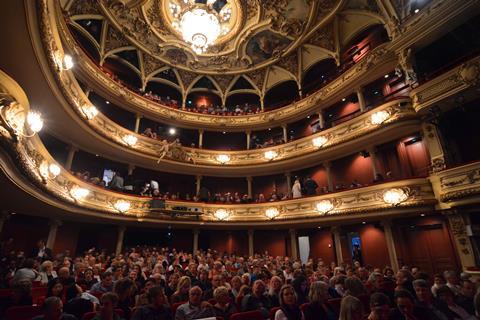 An international jury will convene in the North German town of Oldenburg on Sept 19 for their deliberations and announce the five nominated films for the award - dedicated to first features by European directors - at the festival's closing ceremony on Sept 20.
The jury will comprise German producer Dagmar Jacobsen; Transilvania IFF's artistic director Mihai Chirilov; Polish critic/actor Krzysztof Kwiatkowski; UK producer Lynda Myles; Italian journalist/festival programmer Marco Spagnoli; Rotterdam IFF programmer Gerwin Tamsma; and UK critic/festival programmer Neil Young
Festival director Torsten Neumann told ScreenDaily: "It's a great sign of recognition for us as it shows that the EFA regards Oldenburg as the right place for its jury, with its reputation as the European festival of discoveries."
Last year's winner of the European Discovery - Prix Fipresci award was The Tribe by Ukraine's Myroslav Slaboshpytskiy.
The 28th European Film Awards (EFA) will be held in Berlin on December 12.
Oldenburg unveils more titles
Neumann also revealed to ScreenDaily that world premieres of God of Happiness by Georgian director Dito Tsintsadse and Dark by Nick Basile, executive produced by Joe Dante, will feature at this year's 22nd edition (Sept 16-20).
Oldenburg audiences will also be able to catch Sean Baker's Sundance hit Tangerine, which had its European premiere in Karlovy Vary last month, as well as the international premieres of Hank Bedford's Tribeca title Dixieland; Adam Sulky's Sundance film I Smile Back; Dennis Hauck's feature debut Too Late, which premiered at the LA Indie Fest in June; and Jean-Francois Richet's One Wild Moment, starring Vincent Cassel and Francois Cluzet.
Debbie Rochon, the indie horror star of numerous Troma films, will return to Oldenburg with her first film as a director, Model Hunger, as an international premiere.
Julien Temple's documentary, The Ecstasy of Wilko Johnson, will be shown as a German premiere at the festival.
Festival organisers had previously announced the world premiere of the first three episodes of German director Thomas Stiller's TV series Godless, based on the eponymous Dutch format, as well as the European premiere of Australian director Joseph Sims-Dennett's thriller Observance and Spanish writer-director Miguel Llansó's feature debut Crumbs, billed as Ethiopia's first sci-fi feature film.
Other films already confirmed are Cedric Anger's crime drama Next Time I'll Aim For The Heart and German director Tom Sommerlatte's Summer Downstairs, the opening film at the Berlinale's Perspektive Deutsches Kino sidebar in February.