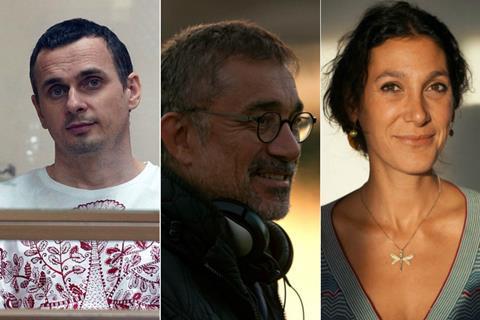 New projects from Oleg Sentsov, Nuri Bilge Ceylan, and Emily Atef are among 29 films selected to receive Eurimages funding in its latest round of co-production awards.
Eighteen fiction features and 11 documentary projects will receive a total of €5.7m ($6.7m).
Scroll down for the full list of titles.
Of the projects selected, one third are directed by women; they will receive 35% of the total amount (€2m).
Sentsov receives €270,000 towards his crime drama Rhino, a Ukraine-Poland-Germany co-production. The film started pre-production back in 2013, before Sentsov was imprisoned by the Russian Federal Security Service the following year for allegedly plotting terrorist acts. He was released as part of a prisoner exchange with Ukraine in September 2019.
Ceylan receives €470,000 towards On Barren Weeds, about a despondent schoolteacher in Anatolia who encounters a fellow teacher with a perspective that leads him out of the darkness.
Atef receives €281,000 towards her fifth feature More Than Ever, a France-Germany-Luxembourg co-pro.
Other recipients include Russia's Viktor Kossakovsky (Aquarela) for his documentary Architecton, and Ukraine's Sergei Loznitsa for The National History Of Destruction.
Further awards
Seven co-production markets have received €20,000 each as part of the Eurimages Co-production Development Awards for 2021-2023. They are the Berlinale Co-production Market, Rotterdam's CineMart, Sarejevo's CineLink, CPH: Forum, TorinoFilmLab, Cartoon Movie and Cinekid.
The Eurimages board has also integrated six further cinemas into its network effective retroactively from January 1, including The House of Cinema in Saint Petersburg, Russia, and the Kosmos cinema in Zurich, Switzerland.
Eurimages October 2020 awards
An Iranian Woman (Ger-Fr) dir. Steffi Niederzoli - €155,000
Architecton (Ger-Fr) dir. Viktor Kossakovsky - €280,000
Brotherhood (Cze-It) dir. Francesco Montagner - €36,000
Brothers (Cze-Ger-Slovak) dir. Tomás Mašín - €370,000
Captain Volkonogov Escaped (Rus-Fr-Est) dirs. Natalya Merkulova, Alexey Chupov - €289,000
Carbide (Cro-Ser) dir. Josip Žuvan - €100,000
Corsage (Austria-Ger-Fr) dir. Marie Kreutzer - €480,000
Dodo (Gre-Fr-Bel) dir. Panos H. Koutras - €345,000
Eternity Package (Bul-It) dir. Magdelena Ilieva - €95,000
Francesca And Love (Sp-Fr) dir. Alba Sotorra - €137,000
From Inside (It-Switz-Fr) dir. Leonardo Di Costanzo - €276,000
Iraq's Invisible Beauty (Bel-Fr) dir. Sahim Omar Kalifa - €50,000
I See You (Den-Ger) dir. Louise Detlefsen - €150,000
January (Lat-Lith-Pol) dir. Viesturs Kairišs - €190,000
Mighty Afrin (Gr-Fr) dir. Angelos Stavros Rallis - €120,000
More Than Ever (Fr-Ger-Lux) dir. Emily Atef - €281,000
My Mother Is A Cosmonaut (Alb-N Mac) dir. Andi Deliana - €43,700
On Barren Weeds (Tur-Fr-Swe) dir. Nuri Bilge Ceylan - €470,000
Rhino (Ukr-Pol-Ger) dir. Oleg Sentsov - €270,000
Saint Habib (Bel-Switz-Fr) dir. Benoît Mariage - €230,000
Snow Is Falling Up (Rus-Slovenia-Tur) dir. Michael Borodin - €90,000
Spas (Ukr-Cze-Cro) dir. Maksym Nakonechnyi - €125,000
The Chambermaid (Slovak-Cze) dir. Mariana Čengel Solčanská - €120,000
The Falling Sky (Bel-Neth) dir. Pieter Van Ecke - €90,000
The Grandson (Sp-Gr) dir. Nely Reguera - €270,000
The Natural History Of Destruction (Ger-Lith-Neth) dir. Sergei Loznitsa - €140,000
Tiger (Rom-Fr-Gr) dir. Andrei Tanase - €145,000
Twice Colonized (Den-Can) dir. Lin Alluna - €145,000
Wanderers In Darkness (Fr-Ger) dir. Stéphane Malterre - €200,000