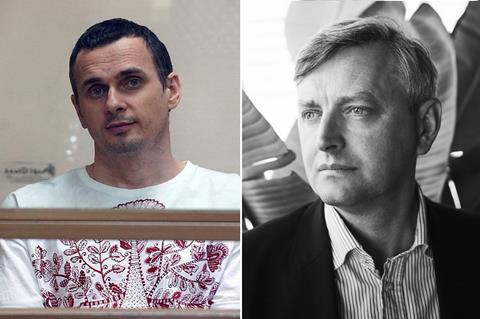 Ukrainian filmmakers Oleg Sentsov and Sergei Loznitsa have joined leading figures from Ukraine's cultural and scientific communities in an appeal for peace as Russian forces continue to amass on the Ukrainian border.
Some 40 cultural figures have issued a joint call to world leaders and urged Russia to deescalate tensions. "Today, Ukraine needs peace more than ever," read their declaration. "Accumulation of Russian military forces around the borders of the European state as well as the constant discussions that the war will start almost tomorrow are alarming for us, as for all Ukrainians.
"That is why we appeal to all world leaders to do their utmost to keep the Ukrainian State and its people at peace. Russia, in turn, is called upon to withdraw military forces. After all, your leaders say that they are for peace – so prove it."
Sentsov is the Ukrainian writer-director of Venice 2021 feature Rhino, who was an outspoken opponent of Ukraine's former pro-Russian government and of Russia's annexation of Crimea. He was arrested in 2014 and sentenced to 20 years in prison, securing release in 2019 after impassioned campaigning by the film industry and human rights groups.
Fellow Ukrainian filmmaker Loznitsa has been a regular at the Cannes Film Festival for over a decade with titles including My Joy, In The Fog and A Gentle Creature all competing for the Palme d'Or. His latest archive film, Babi Yar. Context, debuted in Cannes' Special Screenings last year.
Other signatories of the appeal from the Ukrainian film industry included Anna Kapustina, who produced 2019 Sundance winner The Earth Is Blue As An Orange; Anna Machukh, CEO of the Odesa International Film Festival; cinematographer Serhiy Mykhalchuk, who won a Silver Bear at the 2015 Berlinale for Alexey German's Competition title Under Electric Clouds; and writer-director Konstantin Konovalov, whose 2020 historical action film The Last Fortress Film: Hacibey centred on the battle by the Turkish Ottoman and Ukrainian Hetmanate Empires against the territorial ambitions of the Russian Empire.
Around 200 members of Berlin's Ukrainian community gathering on Sunday (February 13) for a rally in front of the Brandenburg Gate before filing to Potsdamer Platz and back in protest at what they regard as Germany's reserved stance on the current threat from Russia.
Many of the demonstrators wore saucepans on their heads as a satirical reference to the 5,000 helmets sent by German chancellor Olaf Scholz's administration to Ukraine.
The demonstration came a day before Scholz was due to travel to Kyiv to meet the Ukrainian government before travelling on to Moscow for talks with Russian president Vladimir Putin on Tuesday.
This is not the first time that the Berlinale has been overshadowed by the threat of an imminent war. In 2003, 100 international filmmakers attending the festival - from stars George Clooney, Minnie Driver and Dustin Hoffman to director Abderrahmane Sissako - contributed with short statements and freestyle short films to what later became the 70-minute documentary collage freedom2speak as a reaction to the escalating crisis in Iraq.