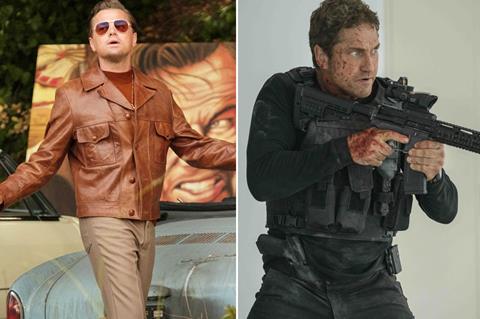 Today's GBP to USD conversion rate: 1.23
| | | | | |
| --- | --- | --- | --- | --- |
| Rank | Film (Distributor) | Three-day gross (Aug 23-25) | Total gross to date | Week |
| 1 | Once Upon A Time… In Hollywood (Sony) | £2.1m | £13.2m | 2 |
| 2 | Angel Has Fallen (Lionsgate) | £1.4m | £2.5m | 1 |
| 3 | The Lion King (Disney) | £1.1m | £69.4m | 6 |
| 4 | Fast & Furious: Hobbs & Shaw (Universal) | £822,000 | £18m | 4 |
| 5 | Scary Stories To Tell In The Dark (eOne) | £611,218 | £755,733 | 1 |
Sony Pictures
Retaining its place at the top of the UK box office tree this weekend was Quentin Tarantino's Once Upon A Time… In Hollywood. The film added £2.1m Fri-Sun, a fairly heavy drop of 59% on its opening session. The good weather across most parts of the UK, which sustained over the entire bank holiday weekend, hampered takings across the board.
Tarantino's film added a further £522,000 on the Monday, which takes its cume to £13.2m.
Spider-Man: Far From Home added £196,000, a drop of 49% which was the best hold of the wekeend, and a further £63,000 on the Monday for £36.1m.
Angry Birds 2 fell 55% over the weekend with £187,000 and is on £4.1m cume.
Lionsgate
Angel Has Fallen, the third entry in the Gerard Butler-fronted action franchise, opened in second place this weekend, taking £1.4m Fri-Sun. The film also took £718,402 previews, and a further £361,692 on the bank holiday Monday, which takes it to £2.5m to date.
That weekend result falls well below the two previous entire in the franchise, Olympus Has Fallen (£2.2m in 2013) and London Has Fallen (£3.2m in 2016). The good weather in the UK won't have helped the release, which will look to make up some ground on the previous two entries in the coming weeks, with Olympus ending on £6.2m and London on an unassailable-looking £11m.
The Queen's Corgi added £29,705 for £2.4m cume.
Disney
The Lion King dropped to third in its sixth weekend, falling 57% week on week with £1.1m. Including the bank holiday Monday, the film has moved to £69.4m to date.
Toy Story 4 added £444,000 over the weekend and is up to £62.7m including the bank holiday.
Aladdin is up to £36.8m from its UK run.
Universal
Fast & Furious: Hobbs & Shaw dropped 51% in its fourth week, taking £822,000 for a cume of £18m to date.
Good Boys fell 57% on its opening session, adding £434,000 for £2m so far.
Yesterday was down 58% with £80,000 leaving it on £13.4m.
The Secret Life Of Pets 2 added £76,000 for £19.3m.
Entertainment One
Scary Stories To Tell In The Dark, the thriller from Trollhunter director André Øvredal, opened with a £611,218 weekend from 417 sites, an average of £1,466. The film added a further £144,515 on Monday for a cume of £755,733 so far.
Blinded By The Light added £149,863 this weekend for a cume of £2.6m.
Paramount
Alexandre Aja's Crawl, the creature feature about a woman stuck in a flooding house with alligators during a major hurricane, opened to a £352,000 weekend from 480 sites, an average of £733. The film had £106,000 in previews, and a further £100,000 on the bank holiday Monday, meaning it is on £558,000 to date.
Dora And The Lost City Of Gold added £488,000 over the weekend and £152,000 on the Monday for £2.8m cume.
Pathe / 20th Century Fox
Pedro Almodovar's Pain & Glory opened to £380,000 from 122 sites, making for an impressive site average of £3,115. The film premiered in Cannes in Competition this year and picked up the festival's best actor prize for Antonio Banderas, who stars with Penelope Cruz. Pathe has UK rights and the film was released by its output partner 20th Century Fox.
That's a very promising start for the Spanish-language feature. Almodovar's 2016 feature Julieta began with roughly the same, £372,916, and ended up being that year's only arthouse foreign-language release to top £1m, taking a total of £1.3m.
Overall, Pain & Glory is the director's second-best debut, behind Volver (£433,283) and ahead of Julieta and The Skin I Live In (£364,109).
Studiocanal
Playmobil is up to £1m from its UK run after posting £35,198 plus £9,535 on the bank holiday.
Warner Bros
Annabelle Comes Home added £27k on the weekend, £34,000 including the bank holiday Monday, for £6.6m so far.
Dogwoof
Hail Satan?, Penny Lane's feature about the rise of the controversial religious group known as The Satanic Temple, opened to £11,401 from 23 sites, an average of £496. With previews and the bank holiday Monday factored in, the film is on £20,782.
Marianne & Leonard: Words Of Love is now up to £604,892 in the UK.
Curzon
Transit took £6,921 over the weekend, plus another £2,489 on the bank holiday Monday, for £56,370 to date.
Picturehouse Entertainment
Animals took £5,365 over the weekend and an additional £1,056 on the Monday to take it up to £316,714.