One Direction concert film grossed $15m over one weekend.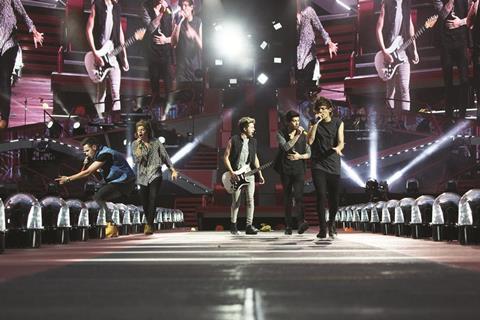 The Event Cinema Association (ECA) has handed its gold award to distributor Arts Alliance for its release of One Direction: Where We Are - The Concert Film.
The announcement was made at the ECA Conference at the Picturehouse Central cinema in London today during the ECA Awards.
The film, centred on a performance by the boy band in Milan, became the highest grossing concert film in the event cinema sector when released on Oct 11, 2014, grossing $15m worldwide in a single weekend.
Ross Fitzsimons, head of sales and marketing for UK distributor Arts Alliance, which released the film, said: "We always knew the fan base with 1D would lead to a successful release but even we were surprised just how well attended it was. It just goes to show the power of event cinema, that when the right elements are in place, the sky really is the limit."
The Awards are separated into two sections: the Box Office Awards, which are open to distributor members of the ECA, split between bronze (100,000 admissions), silver (250,000) and gold (500,000); and Awards for Excellence, which are open to anyone nominated by an ECA member and include categories such as Best Cinema Chain, Best Content Provider, and Outstanding Contribution to Event Cinema.
This year's Box Office Awards were dominated by US distribution company Fathom Events, which won seven bronze awards for various documentaries, anniversary specials of Gone With the Wind and The Sound of Music, the Dr Who season premiere US Release and the One Direction US release.
Fathom Events were also awarded and a Silver gong for The Drop Box, a documentary about a Korean pastor who takes in and raises abandoned babies dropped in a box at his house.
Other bronze awards were handed to Arts Alliance for Exhibition on Screen's art exhibition Vincent Van Gogh's A New Way of Seeing and Kurt Cobain: Montage of Heck.
Arts Alliance also won bronze awards for the Royal Opera House's The Nutcracker and Alice's Adventures in Wonderland.
Pathé Live walked away with bronze awards for the Bolshoi Ballet's The Nutcracker and Swan Lake.
The ECA's Awards for Excellence recognize quality in a variety of categories, and are divided in to regions: Europe, Americas, Australasia and Rest of the World.
ECA Awards 2015
Best Cinema Chain
Europe: Picturehouse Cinemas/Vue Cinemas (Joint), UK
Americas: Alamo Drafthouse, USA
Australasia: TOHO Cinemas, Japan
Rest of World: Empire Cinemas, Lebanon
Best Independent Cinema
Europe: The Picture House, Uckfield, UK
Americas: Kerasotes Showplace Theater, USA
Australasia: Rialto, New Zealand
Rest of World: NCPA, Mumbai, India
Best Distributor
Europe: More2Screen, UK
Americas: Fathom Events, USA
Australasia: CinemaLive, Australia
Best Content Provider
Europe: NT Live, UK
Americas: The Metropolitan Opera, USA
Australasia: Opera Australia, Australia
Outstanding Contribution to Event Cinema
Technical Achievement Award