Female directors, writers and stars are hugely under-represented in the UK top 100.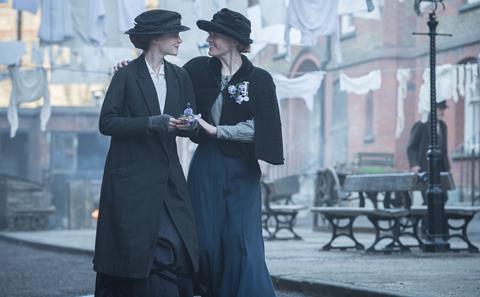 Of the top 100 releases at the UK box office in 2015 (to Nov 19), just six were directed - or co-directed - by women.
These were Sam Taylor-Johnson's Fifty Shades Of Grey, Elizabeth Banks' Pitch Perfect 2, Sarah Gavron's Suffragette, Nancy Meyers' The Intern and Ava DuVernay's Selma.
Lana Wachowski co-wrote and directed Jupiter Ascending with brother Andy Wachowski.
Only seven films were written solely by women - Fifty Shades Of Grey (Kelly Marcel and EL James), Pitch Perfect 2 (Kay Cannon), Suffragette (Abi Morgan) and The Intern (Meyers), plus Trainwreck, written by Amy Schumer and directed by Judd Apatow, and Testament Of Youth, written by Juliette Towhidi and directed by James Kent.
A further 10 were co-written by a woman or had a woman on the writing team.
Increase on 2014
The statistics make grim reading but are an improvement on 2014 when not a single film in the UK top 40 was directed by a woman and only two in the top 100 had a female director.
Both titles were aimed at children: Nativity 3: Dude, Where's My Donkey?, written and directed by Debbie Isitt, and animation The Pirate Fairy, directed by Peggy Holmes.
Female leads
In 2015 (to Nov 19), 28 of the top 100 films have had a lead female protagonist. There are a handful of December releases likely to break into the top 100 films of the year and slightly enhance these figures.
The Hunger Games: Mockingjay - Part 2 is co-written by novelist Suzanne Collins and stars Jennifer Lawrence; The Dressmaker is directed and co-written by Jocelyn Moorhouse and stars Kate Winslet; and By The Sea is written and directed by Angelina Jolie who also stars in the film.
Female stars headline the Phyllis Nagy-scripted Carol (Cate Blanchett and Rooney Mara), Christmas With The Coopers (Diane Keaton), Grandma (Lily Tomlin, Julia Garner, Marcia Gay Harden, Judy Greer and Laverne Cox) and Sisters (Tina Fey and Amy Poehler), which is written by Paula Pell.
Future projects
Of the top five female directors of 2015, Johnson has decided to pass on sequel Fifty Shades Darker, as has writer Marcel, while Banks has signed to direct, produce and star in Pitch Perfect 3, and a TV comedy called The Greater Good.
Gavron is on the awards trail with Suffragette; Meyers is writing a slew of new projects, including an update of Private Benjamin set to star Rebel Wilson; and DuVernay is working with Oprah Winfrey to create a TV series called Queen Sugar, and is developing an untitled feature project about Hurricane Katrina.