First report on 'event cinema' reveals opera to be the most popular alternative content across Europe.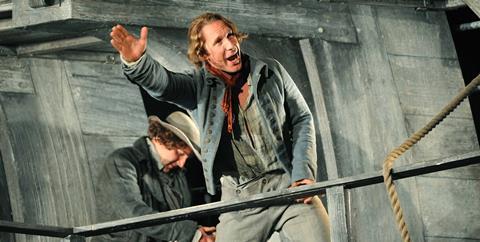 Opera dominates alternative content on the big screen in territories across Europe, according to the first report into the sector by IHS Screen Digest undertaken in association with the Event Cinema Association.
In the UK, opera totals 39.7% of the event cinema market with 52 events screened in 2012, nearly three times more than classical music screenings, which ranks second with a 13.7% share comprised of 18 events.
This is reflected across Europe where opera tops event cinema in Russia (56.9%), France (35.2%), Germany/Austria (34.7%), Ireland (35.6%), Sweden (30.8%) and the Netherlands (24%).
UK leads
The UK is the most advanced market for event cinema in Europe, according to the report, as a result of a major digitisation programme through the UK Film Council's Digital Screen Network.
A total of 131 events were screened in UK cinemas in 2012 with March and October representing peak times.
The estimated gross revenue for all events was £12.5m in 2012.
Behind opera, which averaged 36.7% of all event cinema across Europe, ballet ranks second at 13% and popular music averages 11.7%.
Live broadcasts / 3D struggle
Live broadcasts – as opposed to pre-recorded events – are highly popular in Sweden where they make up 87.2% of all events and represent the majority of events in the UK at 51.9%.
However, 3D content represents just 8% of UK events, down from 17% in 2011. A similar pattern is seen across Europe.
The most popular sources for material outside of the US (Met Opera) are the Royal Opera House, National Theatre and concerts at the O2 in the UK; the Bolshoi Ballet and Mariinsky Theatre in Russia; Germany's Berlin Philharmonic; and Teatro alla Scala in Italy.
The report highlighted a new type of event that will appear in cinemas from June, with the British Museum coordinating an event presenting the events in Pompeii, which will be screened live into a planned 250 cinemas.
Comedy hit
Across all genres, the record event in France was a live broadcast of comedienne Florence Foresti's final performance of her "Foresti Party Bercy" show by Pathe Live in Septemebr 2012, which registered 87,000 admissions in France, Switzerland and Belgium.
This generated gross revenues of €870,000 ($1.14m) from more than 120 venues.
In the Netherlands, oen characterisitic unique to the market is the number of TV shows that have an outing on cinema screens.
After opera, which represented 24% of output, TV shows account for the second largest number of events screened in the territory, representing a 23.3% share.