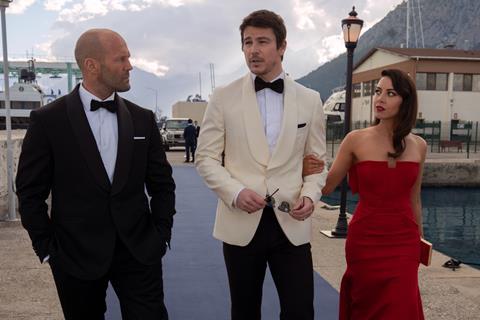 Lionsgate has set a March 3 US theatrical launch for Guy Ritchie's long-delayed action comedy Operation Fortune: Ruse de Guerre.
Co-financed by Miramax and STX Entertainment, Operation Fortune was one of the films affected by the sale of STX to The Najafi Companies last spring, following which some unreleased STX projects were expected to get streaming-only releases. The sale was followed by reports of a distribution deal for the STX films with Lionsgate.
Starring Jason Statham, Hugh Grant, Aubrey Plaza, Josh Hartnett, Cary Elwes and Bugzy Malone, Operation Fortune was shot in Turkey and the UK and released in many international markets last month. Ritchie directed the film from a screenplay he wrote with Ivan Atkinson and Marn Davies. He also produced, along with Ivan Atkinson and Bill Block.
News of the release comes just after Lionsgate announced its acquisition of Ritchie's Ministry of Ungentlemanly Warfare for the US.