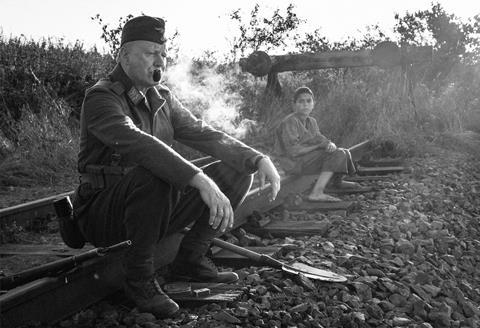 Toronto-based Northern Banner Releasing has picked up Canadian rights from Celluloid Dreams to the Czech Republic's shortlisted best international feature film Oscar hopeful The Painted Bird.
Vaclav Marhoul's adaptation of Jerzy Kosinski's controversial novel about an unnamed boy wandering around Eastern Europe at the end of the Second World War will open theatrically in 2020 through genre ace Raven Banner's specialty label alongside the US release via IFC Films.
The black and white drama received its world premiere at Venice International Film Festival earlier this year and went on to screen at Toronto International Film Festival in the Special Presentations section.
The Painted Bird centres on The Boy, who is entrusted by his persecuted parents to an elderly foster mother and finds himself struggling for survival after the woman dies, when he endures brutality at the hands of superstitious peasants, and witnesses the violence of Russian and German soldiers.
Raven Banner managing partner Michael Paszt and Annick Mahnert brokered the deal with Celluloid Dreams vice-president Charlotte Mickie on behalf of the filmmakers.
"The Painted Bird is a masterwork of visual beauty, a sensitive and stunning epic sweep of a movie," said Northern Banner's Paszt.
"We are thrilled that Northern Banner, an audacious, inventive distributor, will handle Canadian rights for The Painted Bird," said Mickie. "This brave, beautifully crafted movie has found yet another wonderful home."
Marhoul also produced The Painted Bird, a Silver Screen production in co-production with Czech Television, Directory Films, Radio and Television Slovakia, Certicon Group, Innogy, PubRes, and Monte Rosso Production. Czech Film Fund, Slovak Audiovisual Fund, Ukrainian State Film Agency, and Creative Europe – MEDIA provided support.
Northern Banner Releasing's credits include Embrace Of The Serpent, Marlina The Murderer In Four Acts, and The Happiest Day In The Life Of Olli Mäki.