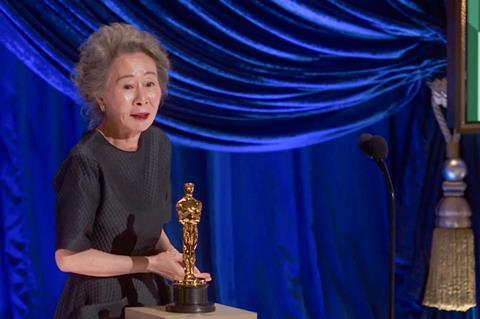 Daniel Kaluuya and Yuh-Jung Youn prompted laughter with their speeches at the 93rd Academy Awards, which afforded winners more time to speak than at many previous Oscar ceremonies.
Best supporting actress winner Yuh-Jung Youn of Minari seemed to be a popular winner in the room.
"Mr Brad Pitt – finally! Nice to meet you," she began, addressing the actor who had presented her award. "Where were you when we were filming?!"
"I'm from Korea and my name is Yuh-Jung Youn. Most European people call me Yuh-Young and some of them call me You-Jung. But tonight, you are all forgiven," quipped the actress.
She went on to offer her admiration of her fellow nominees, especially Glenn Close, before saying, "Tonight I had just a little bit of luck I think – I'm luckier than you! Also maybe it's American hospitality for the Korean actor."
"I'd like to thank my two boys who made me go out and work. This is the result, because mummy worked so hard," deadpanned Youn to the crowd's amusement.
Quirky speeches
Accepting best supporting actor for Judas And The Black Messiah, Kaluuya – a Screen Star of Tomorrow in 2009 – brought smiles from the audience with the cheeky, unrestrained end to his speech.
"We've got to celebrate life, man – we're breathing, we're walking," he said. "It's incredible – my mum, my dad, they had sex. It's amazing, do you know what I'm saying? I'm here. I'm so happy to be alive. I'm going to celebrate that tonight."
Kaluuya had opened his speech by thanking his mum "for pouring into me… you gave me your factory settings. So I can stand to my fullest height."
He also offered heartfelt praise for the character he played in the film, Fred Hampton, the chairman of the Illinois chapter of the Black Panther Party who was killed by law enforcement at the age of 21.
"How blessed we are that we lived in a lifetime where he existed," said Kaluuya. "He was on this earth for 21 years, and he found a way to feed kids breakfast, educate kids, give free medical care, against all the odds."
"There's so much work to do guys – that's on everyone in this room," he continued, addressing the Los Angeles audience. "I look at this room, and I look at everyone – you got work to do.
"And I'm going to get back to work… Tuesday morning. Because tonight I'm going up!"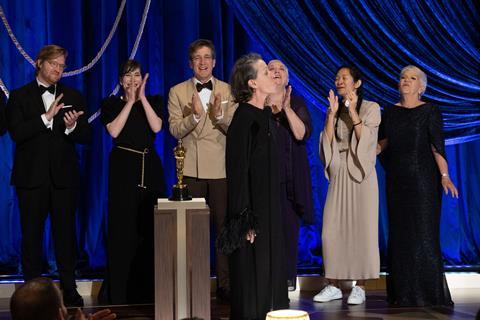 Frances McDormand, speaking when Nomadland won best picture (she was one of the producers) urged audiences to return to the cinema.
"Please watch our movie on the largest screen possible and one day very, very soon, take everyone you know into a theatre, shoulder to shoulder in that dark space and watch every film that's represented here tonight," she said.
McDormand concluded with "We give this one to our wolf" before howling like a wolf. It was a tribute to the film's sound mixer Michael Wolf Snyder, who took his own life earlier this year.
Touching tributes
Thomas Vinterberg provided one of the most moving moments of the evening, in dedicating best international feature film Another Round to his daughter Ida, who died in a car accident in 2019 just after production had begun.
"If anyone dares to believe that she's here with us somehow, you'll be able to see her clapping and cheering with us," said Vinterberg. "Ida, this is a miracle that just happened. And you're a part of this miracle. Maybe you've been pulling some strings somewhere, I don't know. But this one is for you."
Chloé Zhao was a double winner, becoming only the second woman and first woman of colour to win best director, then adding the best picture prize near the end of the evening.
Quoting a classic Chinese text that translates as "People at birth are inherently good", she switched back to English to say, "Those six letters had such a great impact on me when I was a kid, and I still truly believe them today. Even though sometimes it might seem like the opposite is true.
"But I have always found goodness in the people I met, everywhere I went in the world. This is for anyone who had the faith and the courage to hold onto the goodness in themselves, and to hold onto the goodness in each other, no matter how difficult it is to do that."
Several of the night's funniest moments came from the audience present in Los Angeles, solicited by Lil Rel Howery as one of several hosts. Among them were Andra Day, testing the broadcasters censor button in discussing Prince's 1984 song 'Purple Rain' – "It probably wasn't even nominated, and that's some bullshit"; and Glenn Close doing the popular 'Da Butt' dance.