Top brass and show producers were left stunned when Sunday's bungled climax added a notorious coda to what had been up until then a good-humoured and classy show.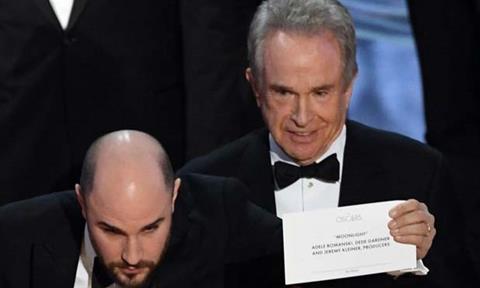 As Oscar ballot tabulators PriceWaterhouseCoopers were understood to be working on a statement to explain what happened, participants were at a loss as to how the error happened.
Moments after Faye Dunaway had announced La La Land to be the best picture winner, the victory celebrations by that film's entourage were cut cruelly short.
La La Land Jordan Horowitz suddenly approached the microphone clutching an envelope and announced the true winner was Moonlight.
The shock announcement cut the musical's Oscar haul on the night to six and left Horowitz and his La La Land collaborators, attendees and show organisers open-mouthed.
Amid the on-stage chaos at the Dolby Theatre in Hollywood, best picture award co-presenter Beatty stepped up to explain his version of events.
"I opened the envelope and it said Emma Stone, La La Land," said the actor, who initially looked confused when he opened the envelope before handing it to his Bonnie And Clyde co-star Dunaway.
"That's why I looked at Faye, and at you. I wasn't trying to be funny."
Stone told the media in the press room after her win: "I also was holding my best actress in a leading role card that entire time… I don't mean to start stuff, but whatever story that was, I had that card."
The Academy had not returned calls for a comment at time of writing.