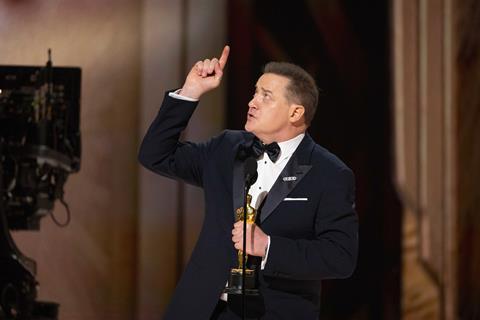 Speeches from Everything Everywhere All At Once winners Michelle Yeoh, Ke Huy Quan and Daniel Scheinert provided key moments at the 95th Oscars, plus an emotional address from best actor Brendan Fraser that capped his return to the Hollywood frontline.
A beaming Yeoh began her speech saying, "For all the little boys and girls who look like me watching tonight, this is a beacon of hope and possibilities." Yeoh becomes the first Asian winner of best actress, and second woman of colour (after Halle Berry).
"Ladies, don't let anybody tell you you're past your prime. You never give up," continued Yeoh, winning for her role as a middle-aged Chinese immigrant working in a laundromat, who realises she can save existence by entering multiple universes. Among her thanks and dedications were her 84-year-old mother, who was watching in Malaysia. "[Mothers] are really the superheroes, and without them, none of us will be here tonight."
Fraser's win was well-received in the room, with an immediate standing ovation including from fellow nominees Austin Butler and Colin Farrell, the latter of whom shook Fraser's hand on the way to the stage.
The teary actor opened his speech saying "So this is what the multiverse looks like!" referencing Everything Everywhere All At Once.
"I'm grateful to Darren Aronofsky for throwing me a creative lifeline and hauling me aboard the good ship The Whale," said Fraser, who has been largely absent from Hollywood since the early 00s, with The Whale regarded as a 'Brenaissance'.
He also credited his fellow nominees, saying "you laid your whale-sized hearts bare so that we could see into your souls like no-one else could do."
One of the loudest cheers of the night came in response to Scheinert's best director speech, given alongside fellow winner Daniel Kwan. Addressing his parents, Scheinert said, "Thank you for not squashing my creativity when I was making really disturbing horror films, or really perverted comedy films, or dressing in drag as a kid, which is a threat to nobody." Multiple US states are pursuing anti-drag legislation, with a bill passed in Tennessee last month restricting 'adult cabaret performances' in public or in the presence of children.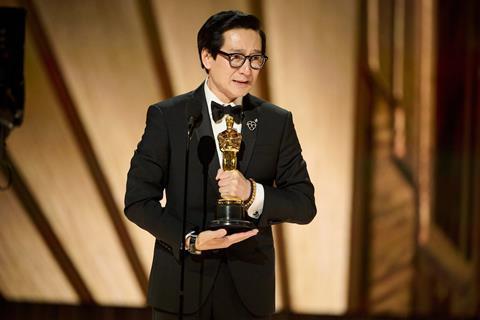 Best supporting actor Quan, who has lit up the awards season with his joyous reactions, gave an emotional address of his own. "My journey started on a boat; I spent a year in a refugee camp," he began. "And somehow I ended up here on Hollywood's biggest stage." Having almost quit acting after struggling to get roles, Quan concluded his speech saying, "Dreams are something you have to believe in. I almost gave up on mine. To all of you out there, please keep your dreams alive."
Best supporting actress Jamie Lee Curtis asked the audience to curtail their applause, as she had promised Academy president Janet Yang she would "do it well, because I'm a good girl".
"I know it looks like I am standing up here by myself, but I am not – I am hundreds of people," said Curtis, before listing her personal and professional collaborators and repeating, "we just won an Oscar." The Halloween star's list included "all of the people who have supported the genre movies I have made for all these years", to cheers in the Dolby Theatre.
Accepting her award for best adapted screenplay, Women Talking writer-director Sarah Polley thanked the Academy "for not being mortally offended by the words 'women' and 'talking' so close together like that."
Slap jokes
Host Jimmy Kimmel made multiple references to the infamous Will Smith slap incident which happened at last year's Oscar ceremony.
In his opening monologue, Kimmel joked that "If anyone in this theatre commits an act of violence at any point in the show, you will be awarded the Oscar for best actor and permitted to give a 19-minute-long speech."
Kimmel then went on to say that the Academy could "Just do what you did last year, nothing. Sit there and do absolutely nothing. Maybe even give the assailant a hug."
While introducing the presenters for best documentary later on in the show, Kimmel noted that this was the award at which last year's incident took place. "Hopefully it goes off without a hitch, or at least without Hitch," the host said, referring to Smith's character in the 2005 romcom of the same name.
In one last final reference to slap-gate, as the credits rolled on the ceremony the host was seen going backstage to a board that read "number of Oscars telecasts without incidents" and turning over the signage to 1.
The ceremony certainly ran incident-free, though some of Kimmel's jokes drew mixed reactions from the room.
While commenting on the differences between film and television, the presenter noted that "There are some things movies could do that TV just can't. For example, a TV show can't lose $100 million. Is the team from Babylon here today?" Damien Chazelle's latest film has made $63 million at the box office to date and was nominated for three Oscars.
A further awkward moment came when Kimmel asked Colin Farrell a question from a "fan" who enjoyed The Banshees Of Inisherin but wanted to know what the Irish actor was saying in it.
Farrell responded: "I'd like him to go on YouTube and check out the SNL skit from last night".
Saturday Night Live's latest episode included a sketch in which two of the comedians imitated Farrell and his co-star Brendan Gleeson with mockingly inaudible Irish accents, drawing much controversy online.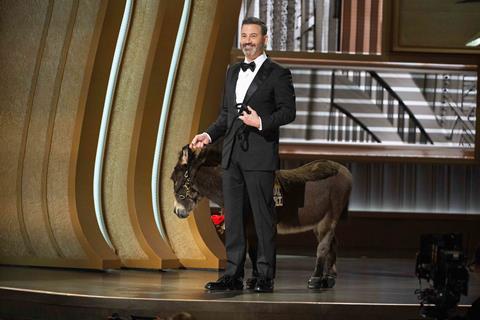 A much more well-received Banshees reference came when Kimmel brought Jenny the donkey (or a donkey that looked a lot like her) out onto stage, quipping that she was not just an actor but also a "certified emotional support donkey".
He continued, "so, if you're feeling upset, or you didn't win, or you're anxious, or maybe you just love mules, feel free to come up and give her a hug."
Performances
All of the best original song nominees performed live at the Oscars - including Lady Gaga, who was originally reported as not attending.
The singer, who won the best song Oscar in 2019 for 'Shallow' from A Star Is Born, appeared visibly emotional as she gave a stripped-back performance of 'Hold My Hand' from Top Gun: Maverick. The performance featured a dedication to Tony Scott, the director of the 1986 Top Gun, who died in 2012.
Other performances included Stephanie Hsu and David Byrne donning hot dog fingers to perform Everything Everywhere All At Once's 'This Is A Life' while a lively rendition of 'Naatu Naatu' from RRR brought the audience to its feet.