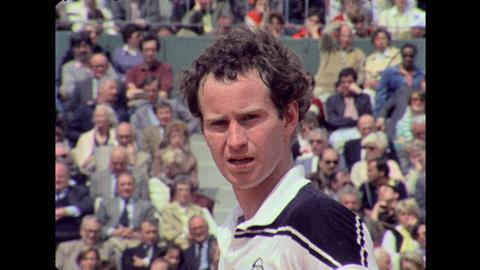 Oscilloscope Laboratories has acquired US rights to Julien Faraut's John McEnroe: In The Realm Of Perfection following its world premiere in Berlin last month.
O-Scope plans an August theatrical release at Film Forum in New York City followed by nationwide expansion.
Faraut wrote and directed John McEnroe: In The Realm Of Perfection and Mathieu Amalric narrated the documentary, which uses original 16mm footage to revisit the US tennis great's performance at the French Open.
Through close-ups and slow motion sequences of McEnroe's play and the unforgettable temper tantrums, the film highlights one of the greatest players the sport has ever seen.
"John McEnroe was a New Yorker in Paris during the French Open, where he had to face a completely new reality," Faraut said. "And sometimes disillusions. Clay, closed cinematographers and photographers, versatile audiences, forgetful judge lines and umpires. The Americans will have a great opportunity to appreciate some of the misunderstandings and ambiguities that befell their former champ. Cinema lies not sport."
O-Scope's Dan Berger added, "Ostensibly a doc about John McEnroe, In The Realm Of Perfection is actually so much more than that. Faraut wipes the floor with traditional bio-docs, creating a balls-to-the-wall piece of auteur cinema that somehow integrates music by Sonic Youth, clips from Raging Bull, and primitive computer animation in a way that actually makes sense. Truly, what the fuck? It's brilliant."
William Jehannin and Raphaelle Delauche produced. O-Scope brokered the deal with Film Constellation, which represents international rights.