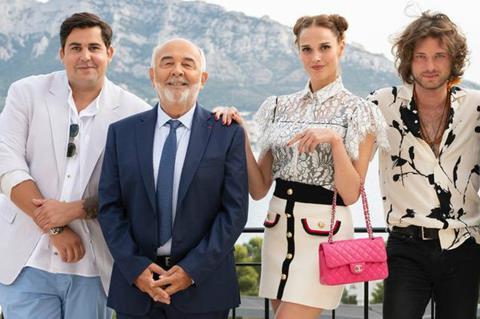 French sales company Other Angle Pictures has boarded sales on dark comedy Spoiled Brats, the French-language remake of 2013 Mexican hit The Noble Family (Nosotros Los Nobles).
The Paris-based sales company will unveil first footage at the five-day Unifrance Rendez-vous with French Cinema in Paris which kicks off today (Jan 16).
Gerard Jugnot stars as a wealthy businessman who pretends his company is financially ruined in a bid to encourage his three pampered, adult offspring to live independently. Comedian Artus, Camille Lou (The Bonfire Of Destiny) and Tom Leeb (Edmond) play the three children.
It is directed by Nicolas Cuche, whose recent credits include directing the French adaptation of Spanish hospital drama The Red Band Society as well as the screenplay for 2016 Dany Boon comedy Penny Pincher!. Gaelle Nouaille at Paris-based Borsalino Productions is producing the film. Apollo Films has acquired French rights for a late summer 2020 release.
Gary Alazraki's Mexico City-set original drew 7.2m spectators at the Mexican box office in 2013 and remains the country's highest-grossing local film to this day.
Other Angle will also world premiere Eric Besnard's bittersweet comedy The Father Figure starring Guillaume de Tonquédec as a writer who is visited by the mischievous spirit of his recently deceased father played by François Berléand. The cast also features Josiane Balasko, Jeremy Lopez and Isabelle Carré. Besnard conceived the film as a tribute to his late comedy director father Jacques Besnard, whose death in 2013 marked him deeply.
It will also world premiere French-Portuguese actor Ruben Alves's comedy Miss, starring androgynous model Alex Wetter as a young man who sets his heart on winning the Miss France contest. Alves' first feature The Gilded Cage drew 1.2m spectators in France.
The company is also screening Tristan Séguéla's' comedy A Good Doctor in which a food delivery man is roped into accompanying a doctor on urgent house calls on Christmas Eve after he knocks him over with his bike.
The film has grossed $5.5m at the French box office since its release by Apollo in December and other Other Angle co-chief Olivier Albou hopes this performance will entice more international buyers in.