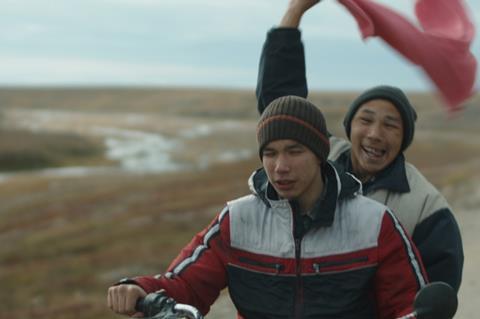 Young Russian filmmakers are coming together in significant numbers to protest against the invasion of Ukraine.
Signatories to an open letter which began circulating yesterday (March 1) include Egor Abramenko, director of 2020 sci-fi horror film, Sputnik, and Philip Yuriev, director of The Whaler Boy, which was a world premiere in Venice's Giornate degli Autori in 2020.
They are calling for an immediate halt to the war and describe "the reckless and barbaric actions of Russian authorities."
"Russia has always taught us: there is nothing more valuable than a peaceful sky above our heads. Therefore, we consider it necessary to stop hostilities against the people of Ukraine and withdraw troops from its territory."
Contacted by Screen International, the signatories have answered questions about how and why they are protesting the war. "This letter was written collectively, so we would like to respond as a group, not individually," they stated.
Who drafted the statement and who began circulating it? How is it being shared? Are any mainstream media outlets sharing it?
The statement has been drafted collectively by a large community of directors, 100+ professionals in total. After we had finished the first draft, lots and lots of colleagues asked to join the effort and sign the statement as well. We are proud that there are all kinds of directors on the list now: we work in film, advertisement / branded content, documentary, new media and other creative domains which involve moving images of any kind.
Yesterday and today we've been sharing the statement and the list of signatories via our personal social media accounts. Basically, the more people get to know about the initiative, the stronger it gets: many directors repost the initial message on their accounts along with some valuable personal comment. We've also shared the statement with a range of independent Russian media and some of them have already published it. Meduza is one of them and we'd like to thank journalists for the support.
We think it's critical that during the first days of these disastrous events [that the] maximum number of people who share humanitarian values stand up and make their voices heard. People in Russia and all over the world should realise that the reckless and barbaric actions of Russian authorities are NOT unanimously accepted by Russian citizens. There are many communities within our country that condemn the brutalities happening in Ukraine right now.
Does the statement represent a strong consensus in the sector? Or are there any directors who support the war?
Again, our message gets stronger as it reaches new audiences: directors of different backgrounds keep signing and reposting the statement all the time. Currently the strongest, almost unanimous consensus has been reached among commercial / advertisement directors (vast majority of which are under 40 years old) - this is an unquestionable fact. Many of our more senior and experienced colleagues also support the call for peace, an immediate example is the statement issued by Kinosoyuz. We realise that many directors and other creative professionals are hesitant to publicly express their opinion as they fear losing jobs or state funding of their projects.
We are not aware of any prominent directors who explicitly and publicly support the war. Probably this is due to the fact that the creative community as a whole largely condemns the ongoing conflict and contradictory opinions or views are associated with serious reputational risks.
What are the next steps? Are there plans for direct protests?
Each one of us chooses the ways to protest for themselves. Some of us participated in the street protests during the first days of war but this has nothing to do with the community: it's all about individual responsibility. We are not a political union or a civic organisation. We are a group of professionals which initially came to life to protect our common professional interests, not issue statements of any kind. It is sad that we have to do it now, but we are morally obliged to do so if we want to work and live peacefully in our country.
We are glad that the vast majority of our wider film and creative community shares the simple and obvious principles: the highest value of human life, respect for neighbours' views and priorities, supremacy of international law, the need to resolve conflicts by negotiation and not by missile attacks.
Read the full open letter below.
OPEN LETTER OF RUSSIAN DIRECTORS AGAINST THE WAR WITH UKRAINE
We are Russian cinema, advertising and multi-format media directors and we believe that conflicts in the 21st century should and can be resolved through negotiations. We are against hostilities and call on our country for peace. Bullets break not only concrete, but something much stronger than it – fraternal ties and families. We want to live and work in peace and harmony with other countries and in our own. Russia has always taught us: there is nothing more valuable than a peaceful sky above our heads. Therefore, we consider it necessary to stop hostilities against the people of Ukraine and withdraw troops from its territory.
Anуa Koshka Neon
Sergey Ramz
Gasimov Mikhail
Sharifullin Erik
Kholodenko Roman
Perlovsky Mikhail
Razgulin Vladilen
Vladimir Vaulin
Ivan Chekhov
Artyom Ignatiev
Natalya Bazina
Minadze Sergey
Maxim Kulagin
Anna Veselova
Proskuryakov Ivan
Maria Pronina
Bezhanov Tigran
Sergey Filatov
David Bintsene
Kitaev Maxim
Philip Yuriev
Peter Fadeev
Yuri Khmelnitsky
Lena Tsodykovskaya
Kirill Kulagin
Gina Onegina
Shevchenko Alena
Vladimir Dinets
Matvey Fix
Baibulat Batullin
Mirny Anton
Starostin Alexander
Alexey Khruslov
Chvanov Nikita
Novikov Kirill
Olya Pankova
Dmitry Maseikin
Vasily Gubin
Natasha Demidova
Gleb Orlov
Ilya Cherepitsa
Georgy Kazakov-Pokrovsky
Viktor Gorbachev
Ruslan Aksenov
Katya Telegina
Alexey Krupnik
Egor Abramenko
Alexander Irinarkhov
Amir Sadykov
Maria Barsukova
Artyom Golenkov
Trevgoda Andrey
Evgeny Nikitin
Ruslan Borisov
Artemy Ortus
Evgeny Bakirov
Andrey Bulatchik
Egor Rodionov 30
Artyom Shcherbakov
Umarov Felix
Egor Ivanov
Dmitry Alekseev
Denis Gulyar
Sergey Frante
Timur Ismaev
Stepan Nikishkin
Likhovitskiy Alexander
Yaroslav Peger
Zhenia Kazankina
Igor Isakov
Georgy Toidze
Ilya Smolin
Alexander Ezhevsky
Anna Kuznetsova
Elena Fonfrovich
Natalya Shinelyova
Lada Iskanderova
Anna Simakova
Natalia Gurkina
Alyona Mikhaylova
Svetlana Rodina
Ilya Solovyev
Igor Marchenko
Sergey Ilyin
Vera Smolina
Slav Syrkin
Vladimir Beck