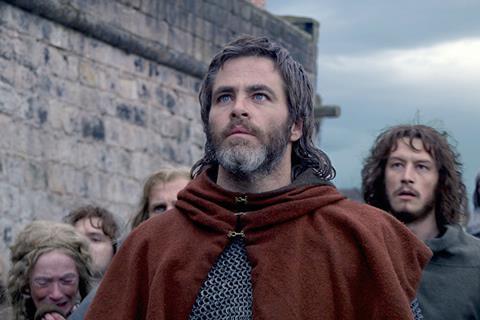 Speaking today (Sept 7) at the press conference for his TIFF opener Outlaw King, director David Mackenzie dismissed the notion that his big-budget historical drama detailing Robert the Bruce's journey from defeated rebel to King of the Scots would be overlooked by audiences given a limited theatrical release in Scotland and simultaneous Netflix release.
"This is the biggest release I have ever had, 191 territories releasing at the same time," countered Mackenzie. "We are reaching out to a much wider audience, and I don't think a studio would have allowed us to make the film the way we did."
Gillian Berrie, Mackenzie's partner at their Sigma Films production banner, added that it was important for Scottish audiences to see the film in cinemas, and Netflix had agreed to that condition.
On rumours that he is being courted to replace Danny Boyle as director of Bond 25, Mackenzie shrugged his shoulders, saying that he had only put Outlaw King to bed two days before its TIFF premiere screening. "All I can think about is taking a rest right now," said the Scottish director. "I can't answer anything about that."
Prodded about his full-frontal nudity in the film, Chris Pine, who stars as Bruce, quipped: "We all have certain body parts, it's amazing to me that people focus on scenes where people are making love. Underneath our 'emperor's clothes', people like [Donald] Trump and [Angela] Merkel do the same things we all do. Ultimately we are all beasts, trying to win and dominate others."
Mackenzie chimed in that the scene was shot when Robert the Bruce is having a bath. "People who take baths generally don't have their clothes on."
Contemporary parallels between the current US administration under Trump and the medieval mayhem of 14th-century Scotland were also brought up. Mackenzie was hesitant to make any comparisons, but Pine insisted there is a relationship with current politics, praising the selflessness of a man who would give up his wealth and power as Bruce did. "There is a lot to be said about the power of selfless acts. These stories deserve to be told over and over again."