StudioCanal's adaptation adds $6m (£3.8m) to hold off Mockingjay and Penguins of Madagascar.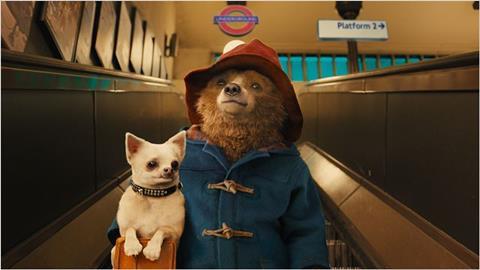 Having recorded StudioCanal's biggest-ever opening last weekend, Paddington has retained top spot at the UK box office for the second straight week.
StudioCanal's big screen adaptation enjoyed a $6m (£3.8m) second weekend with a drop of just 25% as it crossed the £10m mark to stand at $16.2m (£10.3m).
It is already the distributor's third highest grossing film of all time and it will definitely overtake Tinker Tailor Soldier Spy's $22.2m (£14.2m) UK result to become StudioCanal's biggest-ever film.
Paddington is taking the majority of its gross over the weekend period which bodes well for the film once schools break up for Christmas. Expect to see a lot more of the marmalade-loving bear throughout the rest of 2014.
Also for StudioCanal, The Imitation Game is up to $17.6m (£11.3m) after a $1.4m (£874,931) fourth weekend and also stands a chance of overtaking Tinker…, even if the Alan Turing biopic will also be outgrossed by Paddington.
LIONSGATE
In a repeat of last week's top two, The Hunger Games: Mockingjay Part 1 remained in second with a third weekend of $3.5m (£2.2m).
Lionsgate's threequel is now up to a healthy $39.3m (£25.2m) in the UK as it attempts to overhaul The Hunger Games: Catching Fire ($53.3m/£34.2m) to become the highest grossing outing of the series to date. Mockingjay Part 1 has now overtaken The Hunger Games' final result of $37.4m (£24m).
It's currently tracking just over £1m behind Catching Fire which stood at $40.9m (£26.3m) at the same stage in its run. Like its predecessor, Mockingjay Part 1 has to contend with the opening of the latest Hobbit outing in its fourth weekend, an opening that sawCatching Fire fall almost 50%.
FOX
The week's highest new entry came in the form of Fox's animated spin-off Penguins of Madagascar with a solid, if unspectacular, $2.5m (£1.6m) from its 498 sites.
That's lower than every opening in the Madagascar series and fellow spin-off from a popular DreamWorks Animation series, Puss in Boots' $3.1m (£2m) from 510 sites. As with Paddington, Penguins should prosper come the festive break and will hope to overtake Puss in Boots' $22.5m (£14.43m) UK haul.
Also for Fox, The Pyramid dug up a soft $296,000 (£189,823) from its 251 sites on its UK bow and will hope to avoid the usual fast-burn nature of horrors, while The Drop stands at $2.5m (£1.6m) after four weeks in play.
Gone Girl has now amassed $34.7m (£22.22m) and, barring a late surge, may fall short of The Wolf of Wall Street's $35.4m (22.7m) result as the UK's highest grossing 18-rated film of all time. Either way, it's been a terrific run.
WARNER BROS
Falling almost 50% as it dropped to fifth, Horrible Bosses 2 posted a second weekend of $1m (£642,000). Warner Bros' comedy sequel is now up to $4.1m (£2.6m) in the UK, but is unlikely to challenge Horrible Bosses' $16.4m (£10.5m) result.
Also for Warner Bros, Interstellar will hit £20m in the coming weeks after a $949,000 (£608,000) fifth weekend saw it reach $29.9m (£19.15m), while Get Santa charted seventh with a $898,000 (£575,000) debut from its 413 sites and will hope to post solid weekends up to (and including) Christmas.
Perhaps unsurprisingly given the director's previous focus on genre films, Get Santa did post Christopher Smith's best-ever UK opening ahead of Severance's $759,000 (£485,883) from 302 sites.
EONE
Now in its fourth weekend, eOne's Nativity 3: Dude, Where's My Donkey?! added $709,000 (£454,000) for $8.2m (£5.2m) to date. The threequel is currently the distributor's fifth best performer of 2014, but it'll require a festive bump if it's to outgross Nativity 2's $14.4m (£9.2m).
Also for eOne, Mr. Turner is their third highest grossing film of the year with $9.7m (£6.2m) after six weeks in play.
ENTERTAINMENT
St. Vincent landed with a UK debut of $605,000 (£386,640) from its 312 sites through Entertainment. Out of all this week's new releases, it looks best set for decent returns mid-week and to act as counter-programming over the weekend against the arrival of The Hobbit.
CinemaLive
From screenings on Thursday [Dec 4] and Sunday [Dec 7], CinemaLive's release of The Old Vic's production of The Crucible grossed a strong $584,000 (£373,403) with a few sites still to report. According to the distributor, that bow is the highest grossing recorded theatre production (not live or an Encore of a live broadcast).
UNIVERSAL
Narrowly avoiding becoming the lowest opening for Kevin Macdonald's feature outings, Universal's Black Sea sank on its UK bow with $383,000 (£245,000) at a site average of $1,219 (£780).
That's just ahead of How I Live Now's $362,000 (£232,400) debut from 349 sites and Black Sea will be hoping to overtake that's film's final tally of $720,000 (£462,000).
DISNEY
Following its re-release last week, Disney's Frozen added a further $172,000 (£110,000) for $64.2m (£41.09m) to date.
PARAMOUNT
Posting Jason Reitman's lowest-ever UK debut, Paramount's Men, Women & Children could only manage an opening of $114,000 (£73,182) from its 211 sites.
Reitman's previous lowest bow belonged to Young Adult's $215,000 (£137,736) from 157 sites, which is also his lowest grossing film at $632,000 (£405,000). Men, Women & Children may struggle to surpass that.
BFI
Playing across 57 screens in its second weekend (with a mix of single day screenings to across the whole week), BFI's re-release of 2001: A Space Odyssey took an additional $98,000 (£62,538) for $324,000 (£206,907) to date,
METRODOME
Receiving its UK release almost two years after its local opening, Metrodome's The Grandmaster sliced its way to $74,000 (£47,294), including previews, from its 54 sites. That opening is less than half of Wong Kar-wai's best-ever UK bow, My Blueberry Nights' $159,000 (£101,833) from 69 sites.
Also for Metrodome, What We Do in the Shadows stands at $392,000 (£251,315) after three weeks in play, while Mea Culpa grossed $471 (£302) from its one-site release.
PECCADILLO PICTURES
Released in five sites through Peccadillo Pictures, Eastern Boys recorded a UK bow of $6,100 (£3,924).
MUNRO FILMS
Open Bethlehem posted a UK debut of $3,700 (£2,389) from its four sites through Munro Films, all of which were one-off showings.
UPCOMING RELEASES
This week sees saturation releases for Warner Bros' The Hobbit: The Battle of the Five Armies and Disney's Tinker Bell and the Legend of the NeverBeast.
Signature Entertainment's The Snow Queen: Magic of the Mirror receives a wide release, while Soda Pictures' Electricity, Artificial Eye's The Green Prince and Sony's Merchants of Doubt are among the films receiving a limited release.