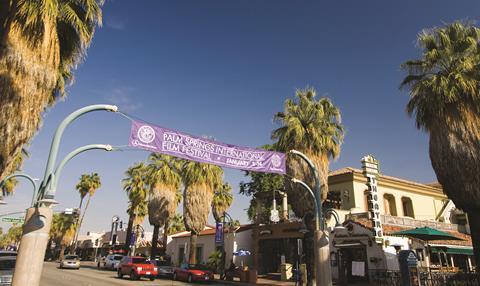 The Palm Springs International Film Festival has become the latest festival to delay its next edition, moving from the event's usual early January slot to February 25-March 8, 2021.
The thirty-second edition of the festival in the desert town a few hours from Los Angeles was originally set for January 7-18 next year.
Now, the event's awards gala will kick the festival off at the Palm Springs Convention Center on February 25, with the first full screenings schedule and the opening night presentation coming the following day.
The Palm Springs International Film Festival Society said in a statement that the date change was intended "to ensure the health and safety of our patrons, staff, filmmaker guests and partners and to make sure we can have a memorable and enjoyable festival experience."
The Palm Springs festival is seen as an important stop in the last few weeks of awards season and the move follows the change in the date of next year's Academy Awards ceremony from February 28 to April 25.
Film submissions for the festival will be accepted beginning August 1.