338 selected films represent 60 countries in the festival and film market that runs from June 20-26.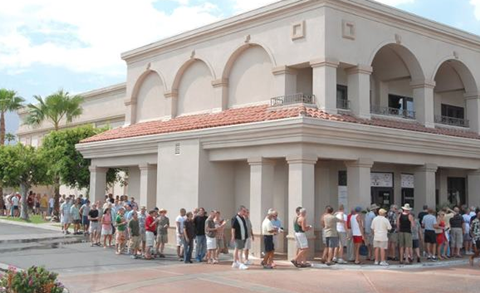 This year's selection of shorts include the world premieres of The Dark Of Night directed by Robin Wright and starring Leslie Bibb and Sam Rockwell, Edmund The Magnificent starring Ian McKellen, and Martha Monster starring Rose Byrne and Bobby Cannavale.
Idris Elba stars in the world premiere of Kate Herron's Five By Five, Kate Winslet stars in Kealan O'Rourke's The Lost Letter, Helena Bonham Carter stars in the North American premiere of Paloma Baeza's Poles Apart, while Toby Jones stars in the world premiere of Jonathan Schey's The Entertainer.
First place winners in five categories will be eligible for Academy Award consideration by the Academy of Motion Picture Arts and Sciences (AMPAS).
ShortFest jurors include David Ansen, Lindsey Bahr, Kate Bosworth, Ian Durkin, Sam Lansky and Heidi Zwicker.
The 23rd Palm Springs International ShortFest will showcase 46 world premieres, 12 international premieres, 42 North American premieres and 16 US premieres.
"Each year, the quality of films we watch for ShortFest keeps getting stronger," festival director Lili Rodriguez said. "It makes our job of narrowing down the final selection that much harder, but also incredibly rewarding. There are so many unique and strong voices and we're really proud to champion these films at the festival."
In addition, ShortFest will feature industry panels, roundtables, and workshops. Topics covered include short film festival strategy, speed pitching, short-form documentary filmmaking, and more.
To view the complete line-up, click here.